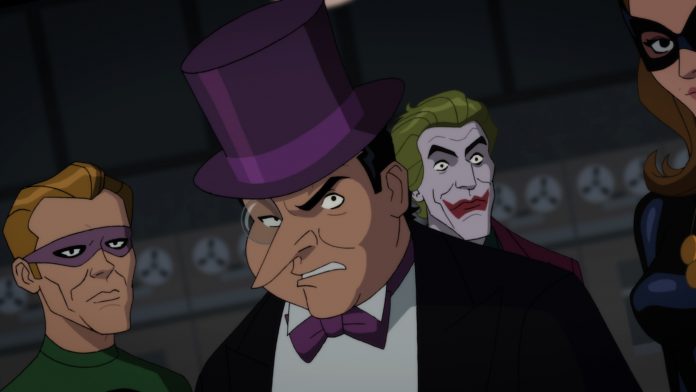 Fathom Events is once again partnering with Warner Bros. and DC Entertainment to bring Batman: Return of the Caped Crusaders to movie theaters for three exclusive showings on Monday, October 10 at 2:00 p.m., 7:30 p.m. and 10:00 p.m. local time, before it comes to Digital HD on October 11 and Blu-ray™ Combo Pack & DVD on November 1.
Bringing these iconic characters to animated life are Adam West (Batman), Burt Ward (Robin) and Julie Newmar (Catwoman). In the new film, Penguin, The Joker, Riddler and Catwoman have combined their wicked talents to hatch a plot so nefarious that the Dynamic Duo will need to go to outer space (and back) to foil their arch enemies and restore order in Gotham City.
In addition to the film, audiences will view an exclusive pre-screening introduction, and a post-screening preview of "Those Dastardly Desperados," a featurette that explores how the villains became more than just antagonists in a Batman story – they became icons of American pop culture.
HOW TO SEE IT
Tickets for Batman: Return of the Caped Crusaders can be purchased beginning Friday, September 9 online by visiting www.FathomEvents.com or at participating theater box offices. Fans throughout the U.S. will be able to enjoy the event in more than 700 select movie theaters. For a complete list of theater locations visit the Fathom Events website (theaters and participants are subject to change).
"Working with Warner Bros. on Batman: The Killing Joke was a great experience and we knew it was something we wanted to duplicate," Fathom Events Vice President of Studio Relations Tom Lucas said. "With Batman: Return of the Caped Crusaders we get to give our audiences another extremely exciting event experience driven by the return of three nostalgic pop culture names to their most memorable roles."
"Fans have voiced a strong desire to see DC-centric animated films on the big screen for years, and Batman: Return of the Caped Crusaders offers another opportunity to entertain our audience with a highly-anticipated cinema event," said Mary Ellen Thomas, Warner Bros. Home Entertainment Vice President, Family & Animation Marketing. "Warner Bros. Home Entertainment is proud to launch our newly branded 'DC Classics Collection' films with a Fathom Events presentation."