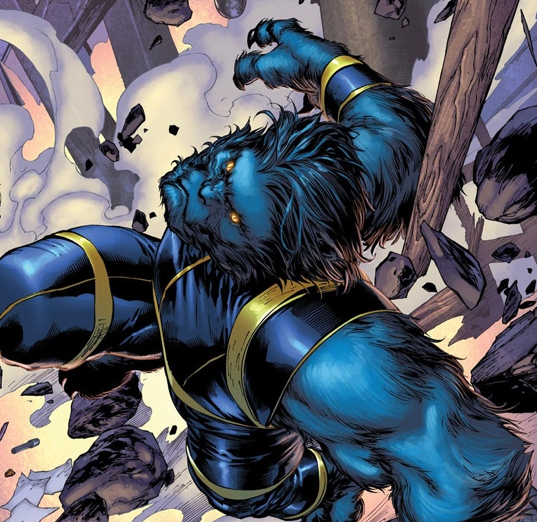 Okay, so he doesn't actually throw a fit; he throws a car in this new, international X-Men: Apocalypse spot. Once again, thanks to our friends at Universo X-Men – a Twitter page "all about movies, cartoons and comics of the mutants" (direct translation thanks to Google Translate!) – we're granted some additional footage from the forthcoming X-Film heralding a mutant massacre made manifest! Yes, Apocalypse makes his debut, and the very terrified, very untrained, and very untested X-Kids have one hell of a fight on their hands. LOOK DOWN! PRESS PLAY! APRECIAR (enjoy)!!!!!!!
#XMENAPOCALYPSE: Novo spot mostra cenas inéditas do #Ciclope e #Apocalipse!! Confiram o vídeo abaixo! pic.twitter.com/dzgtIykTc9

— Universo X-Men (@universoxmen) April 30, 2016
This particular, international X-Men: Apocalypse spot focuses on Quicksilver, Storm, Cyclops and Mystique while offering new footage prefacing and following each character's introduction. And then, of course, we get to see the usually gentle, blue-furred maestro of esoteric musings lose his sh*t and throw a car. Hey, when the chips are down, and the application of logic has failed to stall or sway your opponent ….throw a f###ing car.
X-Men: Apocalypse opens May 27th, 2016 and stars James McAvoy, Michael Fassbender, Jennifer Lawrence, Oscar Isaac, Nicholas Hoult, Rose Byrne, Tye Sheridan, Sophie Turner, Olivia Munn and Lucas Till. It also features about 7.4 billion people trying desperately to get the hell out of the way while mutants scorch the Earth, use buses like bo staffs, and hurl arbitrary humans into the sun as an ego-driven display of deserved global dominance. Ugh.