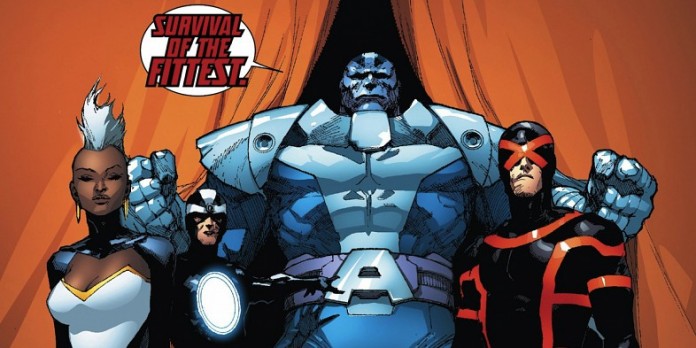 Compliments of the Universo X-Men Twitter page, we're granted a look at an extremely robust X-Men: Apocalypse theater display in the form of several cardboard standees rendered in the likenesses of several Apocalypse cast members!
What stands out? For me, I'm instantly drawn to the extreme difference in size between your average X-Man and the ancient uber-mutant, Apocalypse. This a good thing. Why? Because in the comics, Apocalypse can shift his mass in new, useful and…unsettling ways.
What's also noticeable, and appreciated, in this X-Men: Apocalypse theater display is the detailed look at the assembled, militant mutants' uniforms. NEAT! Check it out!
#XMENAPOCALYPSE: WOW! Nova divulgação do filme de X-Men: Apocalipse! #xmen #marvel pic.twitter.com/AT3tylMVP3

— Universo X-Men (@universoxmen) February 4, 2016
Who's currently standing there with potentially destructive mutant powers at the ready? Let's see…
From left to right we have Apocalypse's Horseman Archangel, Storm, Psylocke and Magneto, X-Men stalwarts Professor Xavier, Mystique, Quicksilver, Nightcrawler, Beast and Jean Grey. And there, standing ominously behind and looking especially puffy, is Apocalypse himself. AHHH!
X-Men: Apocalypse debuts May 27th, directed by Apocalypse who forces all his human actors to kneel before the relentless, murderous, arbitrary wave of genetic super-evolution!!
CLEANSE OUR WORLD, MIGHTY APOCALYPSE! MAKE US BETTER THROUGH MERCIFUL ACTS OF GLOBAL GENOCIDE!