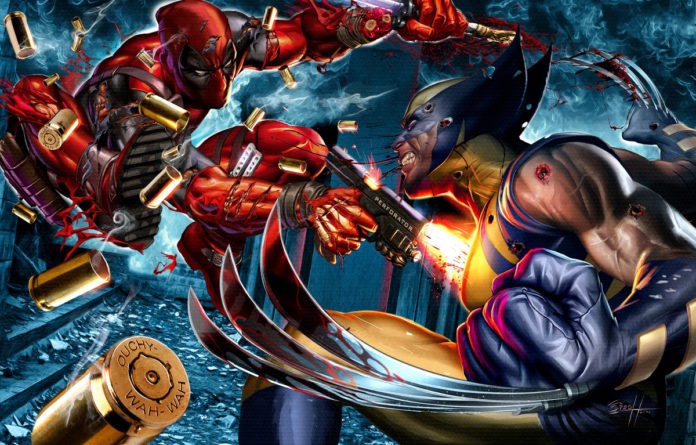 What? Really? Well, Ryan Reynolds has been petitioning for, vying for, and singing made-up songs about a Deadpool/Wolverine team-up with the likes of LOGAN star Hugh Jackman for quite some time. Sure, this was all well, good, and worthy of intense, socially frowned upon salivation, but we shelved it as unrequited longing, anchored by nothing resembling hard, immutable facts. However, in a piece of completely unexpected, expectation-dismissing news, our good friends at The Wrap recently confirmed Ryan Reynolds' involvement in LOGAN; the actor finished shooting a scene as Deadpool (did I really have to mention that??) for James Mangold's forthcoming Wolverine film. What? Really? Yes, really.
Now, the nature of the scene, although not thoroughly disclosed, is more than likely an after-credits scene to market Deadpool 2. I arrived at that conclusion due to the following information:
1. Ryan Reynold's scene was shot after most of the film was already, well, shot.
2. The Director of this additional, Deadpool-centric scene was none other than David        Leitch, Director of the currently untitled Deadpool sequel.
Of course, there's a .000000077% chance we'll get an actual Deadpool cameo. Perhaps after Logan receives his 35th bloody beating at the hands of cyborgs, roving gangs of blood-starved mutants, etc., he'll hallucinate Deadpool eating a fish taco while offering the following warning: "Pop those claws, little poop-nugget, or you're gonna' get popped yourself. Just like Xavier's kids who, by the way, aren't here anymore thanks to YOU."
LOGAN currently has a release date of March 3rd, 2017 and stars Hugh Jackman, Patrick Stewart, Dafne Keen, Boyd Holbrook, Richard E. Grant, Stephen Merchant, Eriq La Salle, Elise Neal….and possibly Deadpool. Maybe. Well, maybe after the credits. Possibly. Not sure at this juncture.