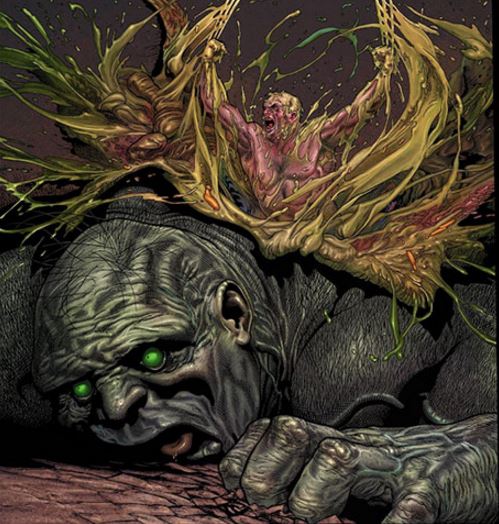 When LOGAN hits theaters in March — detailing perhaps the final exploits of an older, defeated Wolverine traversing a landscape where the number of burning corpses piled in your backyard determines property value — it's going to be a bloody mess. This stylish film directed by James Mangold is loosely based on the comic story "Old Man Logan," wherein said future, older Wolverine actually guts quite a few Hulk-persons in order to survive. So again, even loosely based, we're looking at a bloody mess, and an R rating should certainly help convey the elevated, emotional stakes and violent repercussions.
Speaking with our good friends at FilmIsNow (via Playlist), director James Mangold stressed that LOGAN, featuring Hugh Jackman's final turn as the happy-to-spool-your-entrails-on-a-claw Wolverine, is definitely a film for adults, emotionally and visually, and certainly not for all audiences.
"Logan is an attempt to bring an end to Hugh's amazing line of performances as Wolverine. And the ambition of doing that is to try and make an 'adult film' about Wolverine. To make a movie for grownups. We're not trying to make a movie that [satisfies] everyone. We're trying to make a movie that stands out and is different because it's kind of a grownup drama that also features intense action."
As Deadpool proved last year, rated-R superhero movies absolutely work. And really, why wouldn't they? The largest number of comic book readers falls between the 18-35 bracket, depending on which of the 720,000 studies you examine, so there's a mature audience just waiting to be thoroughly shocked and entertained. And as a comic reader myself, I can tell you the average comic book is certainly not written for children. Sure, some comics might be more reserved in their depiction of violence, but there's a level of intelligence and emotional maturity younger readers might have a hard time grasping.
LOGAN currently has a release date of March 3rd, 2017 and stars Hugh Jackman, Patrick Stewart, Dafne Keen, Boyd Holbrook, Richard E. Grant, Stephen Merchant, Eriq La Salle and Elise Neal