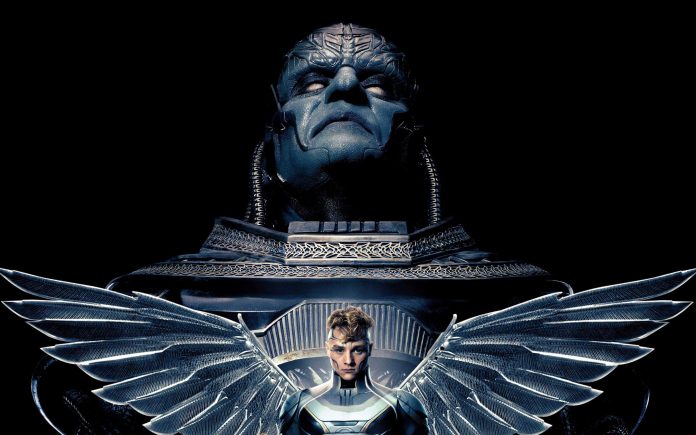 Well, the press embargo has been lifted and the critics are allowed to trumpet their love, disdain, or complete indifference regarding Bryan Singer's latest X-Men endeavor, X-Men: Apocalypse. So, what's the consensus of the sometimes unified, often contentious critical media? Well, it appears the reviews were a "mixed bag," but even those who detracted still managed to discern positive, cinematic triumphs from the film regardless of their overall, moderately underwhelming movie-going experiences. Look, Days of Future Past was a tough act to follow, and it sounds like, in some cases, X-Men: Apocalypse didn't measure up. However, again, the mild detractors had to agree with the film's enthusiasts when it came to the reintroduction of X-Men stalwarts such as Jean Grey, Cyclops, Storm and Nightcrawler, the show-stealing performance of Evan Peters' Quicksilver, and the Wolverine scene described as, "F**ing bananas!" So, that's enough out of me. Let's hit the first batch of reviews for X-Men: Apocalypse from the world of esteemed entertainment trades (and websites and blogs)!
"Both Captain America: Civil War and X-Men: Apocalypse are superhero extravaganzas with severe traffic control problems, but while the former keeps things flowing reasonably smoothly, the new film, set to arrive in theaters just weeks later, resembles a bumper-car nightmare. Narratively jumbled and jammed with so many characters that you give up keeping them all straight while simultaneously lamenting not seeing more of those you might actually want around, Bryan Singer's fourth entry in the enormously profitable series he inaugurated 16 years ago undeniably builds to a cataclysmic dramatic reckoning. But mostly it just feels like a bloated, if ambitious attempt to shuffle as many mutants and specially gifted characters as possible into a story of a resurrected god ready to take over the world. Series fans will no doubt have many bones to pick with the choices made here, but that won't stop the film from soaring at the box office; Singer's last franchise outing, X-Men: Days of Future Past two years ago, was, at $748 million worldwide, the highest grosser in the bunch to date."
"Although the "X-Men" ensembles are usually large, there are simply too many characters for the action-heavy "Apocalypse" to properly juggle. It's easy to forget even McAvoy or Fassbender when they're off screen for too long, and the film functions best when it lets the fresh young trio of Sheridan, Turner and Smit-McPhee take center stage. Still, it's Peters who emerges as the cast standout in just a handful of scenes, by bringing an offbeat sensibility to a production that otherwise plays campy cartoon material a little too straight."
As a conclusion to a trilogy, Apocalypse falls somewhat short. It marginalises key relationships in favour of establishing new ones, and lacks the depth and distinctive historical flavour of its immediate predecessors. But taken as the next chapter in the series, Apocalypse is an undeniably fun and entertaining adventure and does a pretty good job of establishing Xavier's next class. Rating: 7.0 out of 10 Grade: C+
With "X-Men: Apocalypse," however, Singer seems to have acquired a new mutant power of his own: Monotony. Whether it's the lack of an interesting villain, or the fact that the series' time-travel element is forcing these mutants to meet each other (and the audience) all over again for the first time, this latest entry marks a shocking letdown from Singer's earlier contributions; what once soared now slogs.
However, even though the X-Men: Apocalypse narrative ultimately crashes and burns, there's something to be said for the entertainment value of the film. Singer could and should have shaved at least 30 minutes off the running time, but there are enough successful hero moments and well-timed jokes, especially from Peters and Smit-McPhee, to keep the film afloat and even spark some interest in another installment. Grade: C+
X-Men: Apocalypse can't reach the levels of maturity and sophistication of Civil War, but it has a messy charm all of its own, and maintains the quality set by the post-Last Stand films. With a new team of young X-Men standing by, the future's still looking bright for the franchise.
I can imagine Bryan Singer making an X-Men movie every few years for the rest of his life. Sometimes he'll get it right. Sometimes it won't quite work. But it's clear that he is all-in at this point, and there's always something to like about one of these films. If familiarity is a problem for you, then you'll definitely have your issues with the film, but as franchise management goes, this is largely effective spectacle.
X-Men: Apocalypse does nothing to discredit an already enormous franchise, and will appease fans who want more of the same mutant thrills. Comic diehards get their dug-in references (Wolverine mirrors an entrance straight from illustrated pages, Jubilee flashes her legendary yellow jacket, Xavier finally goes bald), movie lovers have some tremendous set pieces to gander at, and X-lovers spend more time with earlier versions of characters they already enjoy. The film isn't underwhelming, it's just same old free-wheeling, Cerebro-smashing, Wolvie-berserker style antics that basely sustain franchise advancement. The X-Men are back, without a doubt. I can't say they're better than ever, but they're certainly back! Rating: 3 stars out of 5 
OH MAN BUT WOLVERINE SCENCE WAS FUCKING BANANAS!!! There is a reason why that 3rd solo film is going to be rated R.

— Kellvin Chavez (@Latinoreview) May 9, 2016