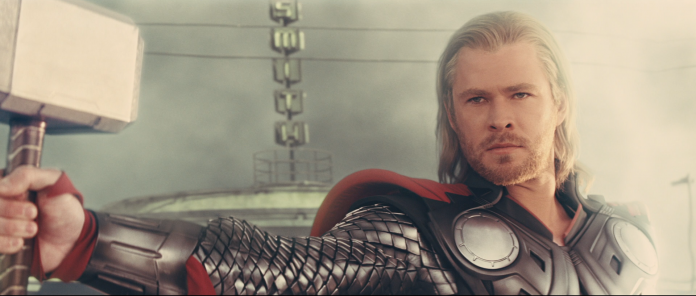 Last week, we shared images from the Brisbane, Australia set of Thor: Ragnarok showing Thor and Loki – in mortal garb – milling about "New York" and carrying a certain business card implying a visit with Doctor Strange. Same week, same set, we saw a surprisingly destitute Odin who could obviously benefit from hot soup and a proper delousing. Well, this week the images continue, as some very lucky Instagram user made his way through the closed Marvel set, and snapped a few photos revealing new costumes for Thor, Loki and Odin. Observe!
Thor's "Ragna-wear" is obviously very different from earlier costume iterations with a healthy serving of leather, softly mitigating the previous, "space-viking" aesthetic.
Odin's robes are certainly more befitting an Asgardian All-Father. Are these sacred garments hidden underneath his tattered mortal-wear while he hides and scurries amidst the refuse-filled gutters of an unkempt New York? Perhaps.
Loki's costume looks very similar to earlier iterations, with the exception of additional leather. If it ain't broke, don't ****ing fix it.
And folks, I would enjoy these while you can. I'm pretty sure Marvel Studios won't approve of pictures being shared by an Instagram user hanging around a closed Marvel set.
Directed by Taika Waititi, Thor: Ragnarok debuts November 3rd, 2017, starring Chris Hemsworth (Thor), Tom Hiddleston (Loki), Idris Elba (Heimdall), Sir Anthony Hopkins (Odin), Tessa Thompson (Valkyrie), Karl Urban (Skurge), Mark Ruffalo (Hulk), with Jeff Goldblum (Grandmaster) and Cate Blanchett (Hela).