When the Super Bowl aired this past February, one burning question was answered. No, not if the Broncos would beat the Panthers. It was more like, "Will Krang appear in the new Teenage Mutant Ninja Turtles movie?" The answer… a resounding yes.
A Super Sunday trailer for the reptilian quartet gave us our first glimpse at the inter-dimensional brain, and now we know who will be bringing him to life: Fred Armisen.
The announcement was made at Wondercon that the Saturday Night Live alumnus will be providing the voice for Krang in this summer's Teenage Mutant Ninja Turtles: Out of the Shadows. The choice could not be any more perfect.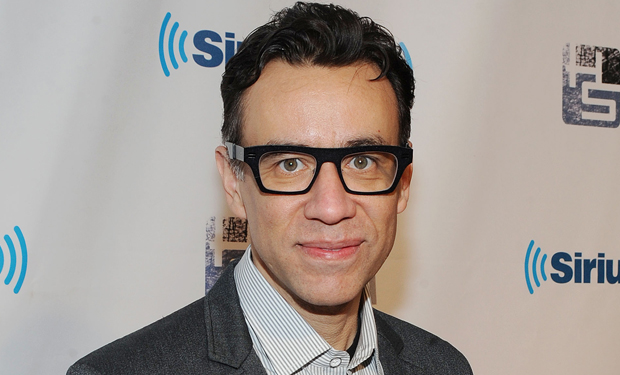 Any SNL fan will remember Armisen as a character chameleon (not to the extreme of a Bill Hader, but that's because Hader's a comedy alien). Armisen appeared in countless skits, transmorphing into various roles including President Obama, Liberace, or as one of my favorites… half of Garth and Kim (alongside Kristen Wiig). Since leaving SNL, his character skills haven't been wasted. Alongside Carrie Brownstein, he is in the midst of season 6 of his IFC show, Portlandia.
Now, he gets to assume the role of one of the iconic characters in the TMNT Universe. From what we've seen in trailers, Krang (inside his giant, humanoid mechanical suit) will make his way from Dimension X (in an apparent, floating Technodrome) to offer a new villain for The Turtles. There's sure to be plenty of fun moments from a talking brain, so it's great that Armisen was brought on board to lend his voice.
Armisen is the latest "new face" for the franchise. Also joining the sequel: Stephen Amell as Casey Jones, Tyler Perry as Baxter Stockman, Brian Tee as Shredder and Gary Anthony Williams & Stephen Farrelly (WWE's Sheamus) as Beebop & Rocksteady. They join the returning cast of Megan Fox, Will Arnett, William Fichtner and the voices of Johnny Knoxville (Leonardo) and Tony Shalhoub (Splinter).
Teenage Mutant Ninja Turtles: Out of the Shadows hits theaters June 3, 2016.