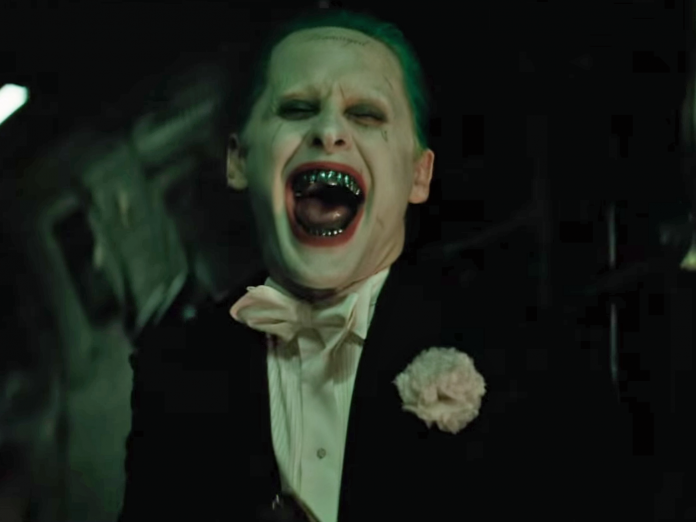 Jared Leto really jumped into the figurative deep end as far as his preparation for the role of Joker. Let's see….he sent fellow cast members dead bears, fingernail clippings, and the ears of rabid Pokemon to successfully immerse himself in the role of comics' most ostentatious, diabolical, clown-themed murder machine*. Recently, and while in character (of course), Leto took a very disturbing Joker selfie and posted it to Twitter, scaring the hell out of you, me, and 75 workers milling about the set of Suicide Squad. OBSERVE!
????✳️ https://t.co/RW3Ost3WJE pic.twitter.com/fZugXYc0oJ

— JARED LETO (@JaredLeto) July 13, 2016
On August 5th, we get to see the results of Jared Leto's intense foray into torturous method acting when he pursues the object of one of his more successful relationships, Harley Quinn. Yes, he positively hates the fact that Harley moved on, "taken in" by Amanda Waller and her brutally effective, super-human response team, Task Force X. That's HIS girl, you see, and no person, plant, sentient egg or clandestine governmental agency will EVER take her away!
Suicide Squad kicks you in the poop-pocket on August 5th, 2016 and stars Will Smith, Jared Leto, Margot Robbie, Joel Kinnaman, Viola Davis, Jai Courtney, Jay Hernandez, Adewale Akinnuoye-Agbaje, Ike Barinholtz, and Scott Eastwood.
*He did NOT send those things, specifically.