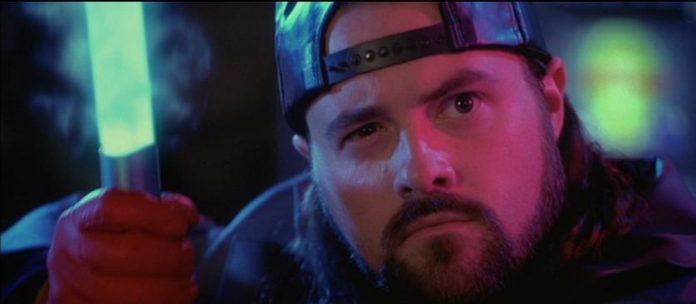 We've been hearing tons and tons of good stuff regarding Marvel's latest Captain America outing, Captain America: Civil War, but it looks like we have yet another glowing celebrity endorsement! Kevin Smith, best known for his movies like Clerks and Mallrats as well as his friendship with Ben Affleck, has thrown in his opinion through the magical word of Twitter! What did good ol' Silent Bob think of it? Did he hate it? Did he think it was okay? Did the movie end with Iron Man and Captain America realizing that their mothers had the same name? No! Apparently Kevin Smith loved Captain America: Civil War and even went so far to say it is the greatest comic book movie ever! Wow, really? Even better than the Dark Knight?
Watched @CaptainAmerica #CivilWar in amazing @4DX_USA theater! Easily the greatest comic book movie ever made! Best Spidey flick too! LOVED!

— KevinSmith (@ThatKevinSmith) April 28, 2016
As you can see, I suppose the answer is….yes! Kevin Smith loved Captain America: Civil War and considering that it is currently sitting around a 97% on Rotten Tomatoes one could see why! I guess that really means we should start getting excited not only for Civil War, but for the Infinity War movies as well! Captain America Civil War opens up on May 6th, 2016 and stars Robert Downey Jr., Scarlett Johansson, Sebastian Stan, Anthony Mackie, Don Cheadle, Jeremy Renner, Chadwick Boseman, Paul Bettany, Elizabeth Olsen, Paul Rudd, Emily VanCamp, Tom Holland, Frank Grillo, William Hurt, and Daniel Brühl.