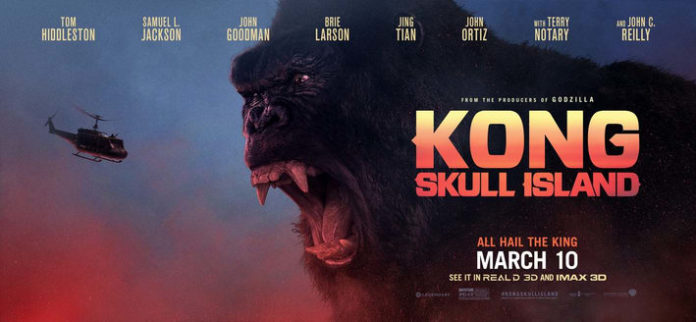 *MINOR SPOILERS AHEAD*
The king himself returns to the big screen with Kong: Skull Island. The franchise reboot by director Jordan Vogt-Roberts (The Kings of Summer) and second in Warner Brothers' "Monsterverse" (along with 2014's Godzilla) takes us to King Kong's home turf on Skull Island. Was it as good as the original 1933 film? Did it offer anything new?
Absolutely! The movie takes place in 1973, where MONARCH agents Bill Randa (played by Argo and Raising Arizona's John Goodman) and Houston Brooks (Corey Hawkins of 24: Legacy) lead a team of soldiers led by Preston Packard (Samuel L Jackson), a mercenary (played by Tom Hiddleston), and a photographer (Brie Larson) to Skull Island, home of the mighty King Kong. But things don't go according to plan, and we have ourselves a heck of a movie!
I can honestly say I had a blast watching Kong: Skull Island. Everything about this movie is top-notch! The direction by Vogt-Roberts is perfect. It is a fast-paced movie with something happening every 10 or 15 minutes; there is never a dull moment. It's refreshing to see a movie take place almost entirely on Skull Island as opposed to seeing Kong brought to New York City or Tokyo.
Everyone in the cast is amazing. Goodman and Jackson are at the top of their games and Larson and Hiddleston have great chemistry. The big star of this film is John C. Reilly as Hank Marlow, a World War II pilot who's been stranded on Skull Island for 30 years. He brings the right kind of crazy to his role without being over the top. Every minute he's on screen is a delight.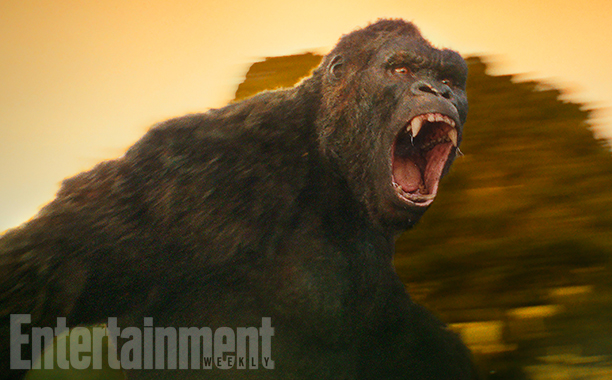 The special effects by Industrial Light and Magic are just spectacular. Probably the best special effects by ILM since either Jurassic World or Transformers. When you see Kong on the screen, he looks intimidating. The fight scene with the giant octopus and the final showdown with the Skull Crawler are amazing fight scenes that need to be seen on the big screen.
This is better than the Gareth Edwards 2014 Godzilla film for a few reasons:
1. The characters were a lot more interesting, especially Goodman's and Jackson's.
2. More importantly, there is A LOT more Kong in this compared to Godzilla in his own movie. Kong is in the opening scene, then makes his presence known when the cast arrive on Skull Island. An hour into Godzilla, all we saw was his foot!
I saw Kong: Skull Island in IMAX 3D. Definitely see it in IMAX 3D if you have the chance before Beauty and the Beast. This movie was designed to be seen in IMAX and there's nothing like seeing Kong on a massive screen. The entire theater rumbled whenever he took a step or let out a mighty roar. It was like I was in the presence of the legendary monster himself, even more than the defunct Universal Orlando ride Kongfrontation.
I can't stress the importance of how you should make plans to see this while it's in theaters, especially in IMAX 3D. A movie like this was meant to be seen in theaters and not illegally downloaded onto your computer. Absolutely worth the money.
Also, STAY AFTER THE CREDITS!