So, we've known for a while now that actor Martin Freeman will be involved – to some degree – in the forthcoming Marvel film, Captain America: Civil War. We've seen him surrounded by government agents and other groups of important looking people having to do with the governmental hierarchy taking the effects of superhero intervention very, very seriously. The initial speculation cast him as Everett K. Ross, a character straight from the Black Panther comics who, while working for the U.S. State Department, escorted foreign diplomats on American soil. Again, referencing the comics, Ross' first job was escorting King T'Challa, the Black Panther. Hmmmm. Interesting.
Well, our friends at Empire Magazine just spilled the beans and confirmed Freeman's character: Martin Freeman will indeed be portraying Everett K. Ross. YES! Check out this amazing Civil War image from the magazine featuring Freeman (Ross) next to Emily VanCamp (Sharon Carter/Agent 13) amidst some heavily armed German agents.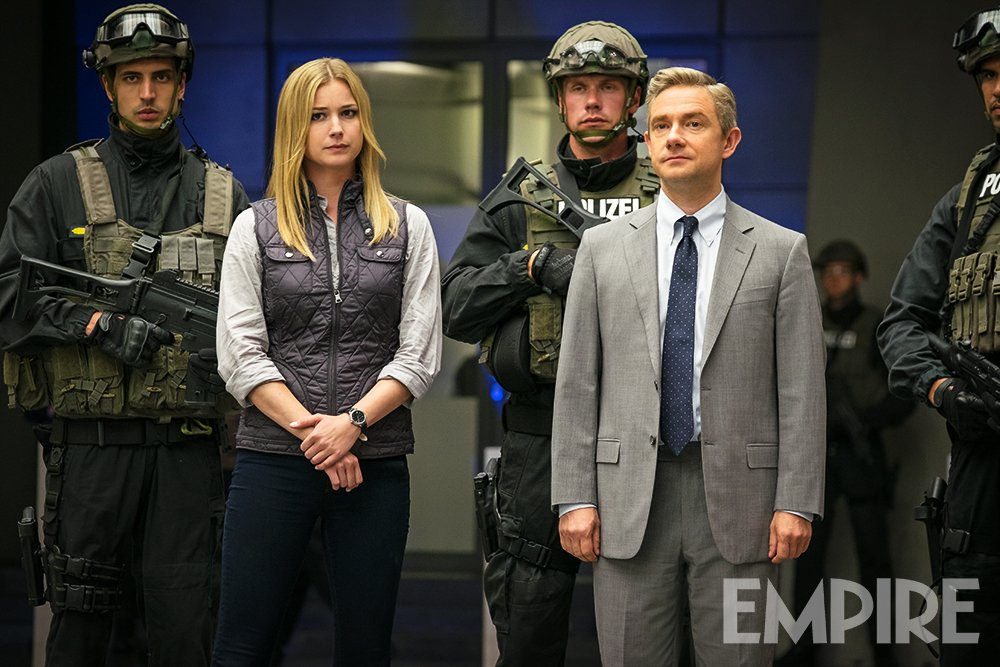 Now, Everett Ross' official title in the Civil War film diverges a bit from the comics; he's not a representative from the U.S. State Department, but a member of the Joint Counter Terrorist Centre (that's the JCTC to you acronym loving readers). BUT…seeing as the Black Panther makes his MCU debut in Civil War, we may see Ross' title and responsibilities change to better suit the comic book based liaison/foreign dignitary relationship.
Oh, and hopefully he won't be removing an infinite number of pants in the presence of Mephisto.
If you do happen to run afoul of Mephisto, you should  probably adorn yourself with an infinite number of Black Panther t-shirts.
And if you understood the infinite pants reference – and happen to be female – I fear I must marry you immediately.
Captain America: Civil War debuts May 6, 2016, starring Chris Evans, Robert Downey Jr., Scarlett Johansson, Sebastian Stan, Anthony Mackie, Paul Bettany, Jeremy Renner, Don Cheadle, Elizabeth Olsen, Paul Rudd, Chadwick Boseman, Emily VanCamp, Daniel Brühl, Frank Grillo, William Hurt, and Martin Freeman.