This week, the boys are finally back in town. Following a short hiatus in recent years, featuring Iron Fist in his own comic and Power Man taking a leadership role in the Mighty Avengers, the Heroes for Hire returned on Wednesday (2/17) in their own self-titled series, Power Man and Iron Fist, written by David Walker and penciled by Sanford Greene. Under the guidance of editor Jake Thomas, the group has started a promising series, centered on the return of one of Marvel's greatest partnerships. Now, prepare yourself for our review [WITH A FEW SPOILERS] of Power Man and Iron Fist #1!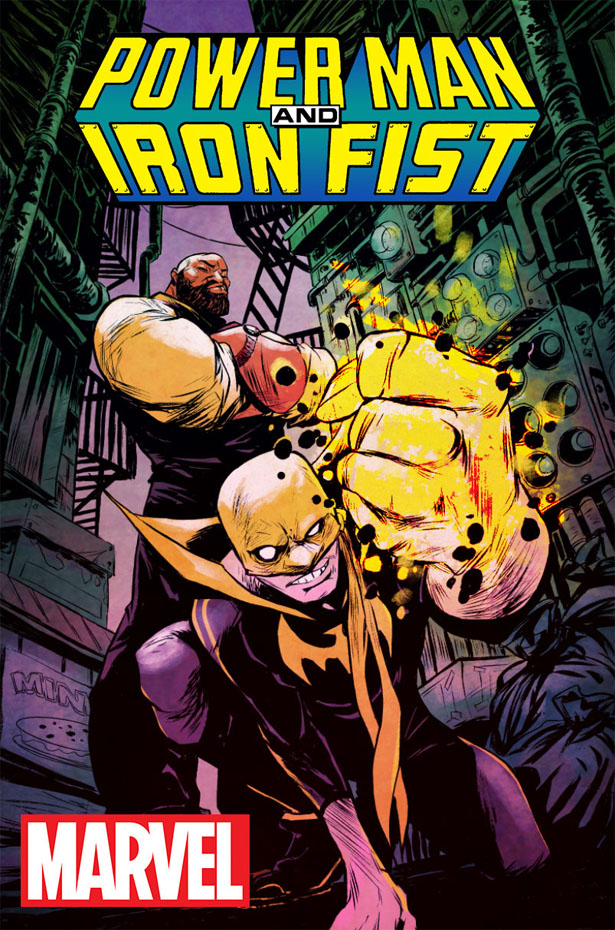 At first glance, the standard cover by Sanford Greene is excitingly simplistic, focusing purely on Iron Fist and Power Man being together again. His blend of colors is pleasing to the eye and demands the viewer's consideration, but more importantly, Walker's initial story and dialogue capture the essence of the Heroes for Hire; it sets up the series to be a contender in Marvel Comics ongoing roster.
The first issue starts by emphasizing not only the distance between the two, but the difference in Luke Cage's present life; he's married to Jessica Jones with a daughter. While Iron Fist is obviously excited for the team-up, Luke is reluctant, constantly reassuring Jessica throughout the issue that the current circumstances are just a one-time thing; however, with Luke giving the reminder regularly, the reader begins to wonder if it's really for Jessica or for himself.
The two find themselves together again to pick up their former office manager, Jennie Royce, after being released from prison as a convicted killer. Later, at a superhero dinner, Jennie asks for the boys help to retrieve her grandmother's necklace, and just like that, the duo returns – hesitantly – to busting heads, specifically Tombstone's. However, there is a twist at the end of the comic compelling the reader to return for Power Man and Iron Fist #2 and setting up the duo for an ongoing series.
Overall, the series is off to a great start. Walker clearly has some story-arcs in mind and his writing shows an excitement to take the characters to new heights. While I'm not a huge fan of Greene's art, I think it suits the comic and will help capture the jokes and emotion in Walker's writing. I recommend this comic to anyone familiar or unfamiliar with the characters. It does not require a prior, in-depth knowledge, only a love for unique heroes.