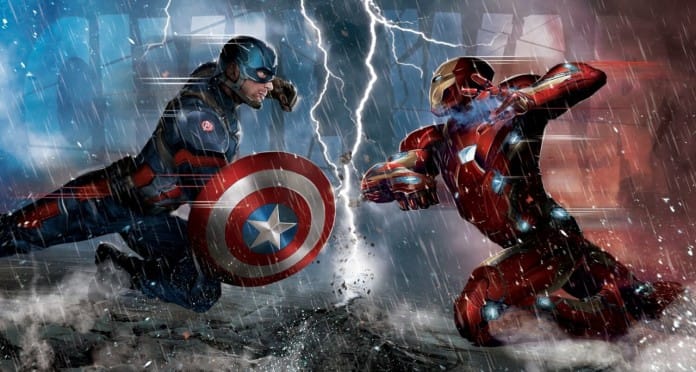 To prepare for today's release of the Marvel Cinematic Universe Phase Two Blu-ray Box-set (which is a mouthful), Marvel provided our friends at ComicBookResources with a super-neato Captain America: Civil War preview video. Clocking in a 1:34, this Civil War preview video features a few, scant, behind-the-scenes shots over interviews and commentary provided by Captain America: Civil War Directors Jon and Anthony Russo, Marvel Films' President Kevin Feige, Civil War Executive Producer Nate Moore, as well as stars Robert Downey Jr (Iron Man/Tony Stark), Chadwick Boseman (T'Challa/Black Panther), Elizabeth Olsen (Wanda Maximoff/Scarlet Witch), and Chris Evans (Steve Rogers/Captain America).
The Russo Brothers are the first creators to chime in, explaining where Civil War falls within the Marvel movie timeline, and how characters in the film are forced to gain some perspective regarding their actions in earlier Marvel films.
"In Captain America: Civil War, we're looking at the repercussions of all of the Marvel Movies up to this point"
Executive Producer Nate Moore continues, giving us the low-down on what Civil War is all about.
"Civil War is about the government saying, 'hold on a second, Avengers. Just because you can be first responders across the globe, does't mean you should be. All Superheroes should be registered, there should no longer be vigilantes.'"
Marvel Film's President Kevin Feige elaborates further, focusing directly on the specific individuals personifying the conflicting viewpoints clashing in the forthcoming film.
"Cap believes there's one course of action they should take, and Tony believes there's another."
Robert Downey Jr comments on the inherent strain produced by a conflict involving personal beliefs and higher, more utilitarian concerns.
"There's this rift (between Cap and Iron Man), and it puts their relationship in the balance, as well as the Avengers."
Go here to see the full video!
The Marvel Cinematic Universe Phase Two Blu-ray Box-set is available TODAY! YAY!
Directed by Joe and Anthony Russo, Captain America: Civil War debuts May 6th, 2016, starring Chris Evans, Robert Downey Jr., Scarlett Johansson, Anthony Mackie, Chadwick Boseman, Crossbones for a few minutes before he blows everything up and lots of unfortunate bystanders!