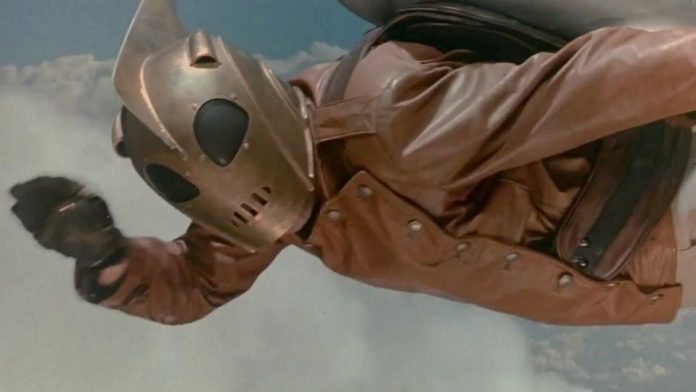 Buckle up and strap in… The Rocketeer will be soaring back into theaters. As first reported by the Hollywood Reporter, Disney is working on a reboot of the 1991 original movie. This Rocketeer reboot is appropriately titled The Rocketeers, and Max Winkler and Cliff Spicer have signed on to co-write the script.
Described by the Hollywood Report as both a sequel and a reboot, the lead character in this version will be played by an African-American female.
There are some ties to the sports world associated with this project. The executive producers include NBA star Blake Griffin of the Los Angeles Clippers, and NFL center Ryan Kalil, who plays for the Carolina Panthers.
The original Rocketeer movie starred Billy Campbell as Cliff Secord, who used the rocket pack and suit to fight a band of Nazis who had infiltrated Hollywood. They were led by a character played by Timothy Dalton, interpreted by many as a fictional take on Errol Flynn, whose associations with Nazi espionage were rumored throughout the 1940s.
The movie disappointed at the box office at its original release but has become a beloved cult classic, inspiring the interest for this new project.
According to the Hollywood Reporter, the new movie will be set six years after the original. Secord is nowhere to be seen, but a young African-American female pilot dons the rocket pack and suit to combat a rocket scientist who looks to steal the technology for the Soviets amidst the Cold War.
Winkler and Spicer are writing and producing partners. Their past works include Flower, a movie currently in post-production. Winkler, who is the son of Henry Winkler ("The Fonz" himself!), also wrote the 2010 comedy Ceremony, and has worked for two currently popular FOX sitcoms, Brooklyn Nine-Nine and New Girl.