Natalie Portman. You may remember her from Black Swan, Thor, or V For Vendetta. Oh, I'm missing a big one? Oh yes…the Star Wars prequels. My memory must have done that repression thing again. Any-who, the above video features Natalie Portman on Jimmy Kimmel Live. In it, she talks about how her son is a huge Star Wars fan but she refuses to let her son see the prequels! That's understandable, right?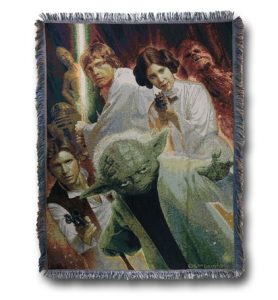 "It's kind of a shame," Natalie Portman stated. "You know, when I made it, I was like, 'This is going to be the coolest thing. One day when I have kids, I can show them'. And boys, of course, are obsessed with it and know all about it before they've seen it." She continued, "I realized, I die in the movies. I feel like it's kind of a scary thing to show your kid."
Ah, I bet most of you thought she didn't show her kid the movie because of it…um…being the prequels! Oh, and Youngling slaughter. That might be a bit more traumatic than Natalie Portman dying, right? Joking aside, it does seem to be a valid compliant…that and Jar-Jar Binks. You don't want that guy giving your kids nightmares, do you?