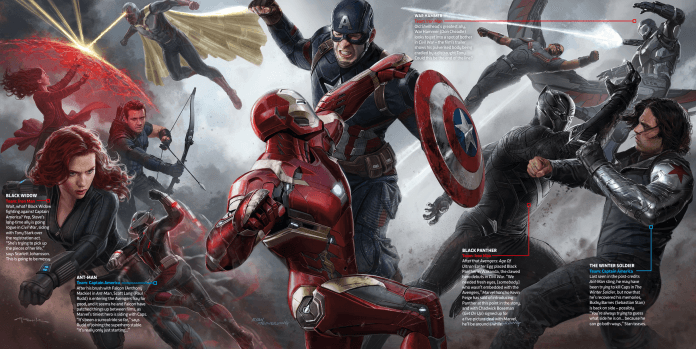 Check out this new piece of ridiculously beautiful, action-packed Civil War concept art rendered by artists Andy Park and Ryan Meinerding. I mean…HOLY CRAP this is some beautiful Civil War concept art. That's right, Force Awakens; the spotlight is on you, but Marvel is there, waiting, gathering steam and building momentum until it blossoms in a burst of technicolor brilliance, dissolving your shadow in a flutter of iron fists and star spangled shields! Take another look! It's beautiful!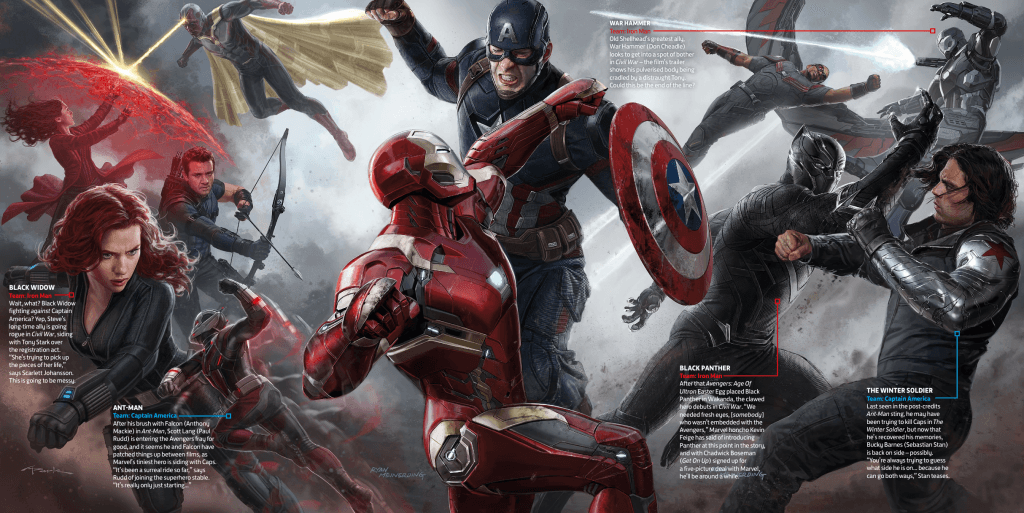 Released by UK-based magazine Total Film, this amazing scene portraying beautiful illustrations of battling heroes is more than a visual treat; it's especially educational! Check out the columns of text floating about the battlefield, detailing the history of particular Marvel characters and their specific narrative leading up to Civil War. It's really great to see this attention to continuity in Marvel's Cinematic Universe. It's very much like a, "Previously, in (insert name of comic book here)," which is just like a comic book. NEAT!
And check out the Vision and Scarlet Witch! Are they battling due to the necessary enforcement of super-human accountability, or did the Vision bring chocolates when the Scarlet Witch obviously prefers pecans!
One more thing worth noting: If Iron Man connects with that punch, there may a headless Captain America starring in the latter part of Captain America: Civil War!
Captain America: Civil War debuts May 6, 2016, starring Chris Evans, Robert Downey Jr., Scarlett Johansson, Sebastian Stan, Anthony Mackie, Paul Bettany, Jeremy Renner, Don Cheadle, Elizabeth Olsen, Paul Rudd, Chadwick Boseman, Emily VanCamp, Daniel Brühl, Frank Grillo, William Hurt, and Martin Freeman. Oh, and not one single Stormtrooper!