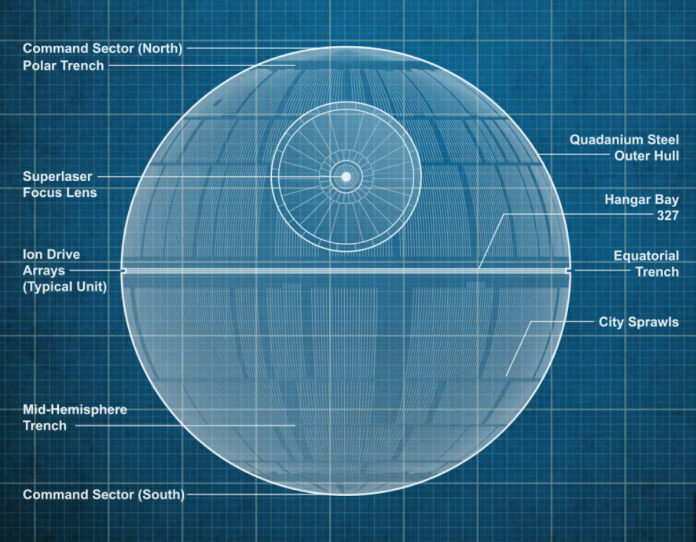 We are four months and counting until Rogue One: A Star Wars Story comes crashing into our lives. Now Disney and Lucasfilm are gearing up by commencing the marketing blitzkrieg. So far this has included trailers, new looks at merchandise and toys (not to mention introducing all new droids), and the very recent release of the full description for the movie's tie-in novel.
Catalyst: A Rogue One Novel will hit bookshelves November 15th (one month prior to the movie's release.) James Luceno (who is the author behind the spectacular Tarkin) penned the novel, which features events leading up to the eventual stealing of the Death Star's plans. Basically, it's a prequel to the prequel spinoff taken from the opening crawl of A New Hope. Did you follow that? Well, anyway… Stitch Kingdom got a hold of the publisher's description which features some new, interesting tidbits regarding the events proceeding Rogue One.
"War is tearing the galaxy apart. For years the Republic and the Separatists have battled across the stars, each building more and more deadly technology in an attempt to win the war. As a member of Chancellor Palpatine's top secret Death Star project, Orson Krennic is determined to develop a superweapon before their enemies can. And an old friend of Krennic's, the brilliant scientist Galen Erso, could be the key.
Galen's energy-focused research has captured the attention of both Krennic and his foes, making the scientist a crucial pawn in the galactic conflict. But after Krennic rescues Galen, his wife, Lyra, and their young daughter, Jyn, from Separatist kidnappers, the Erso family is deeply in Krennic's debt. Krennic then offers Galen an extraordinary opportunity: to continue his scientific studies with every resource put utterly at his disposal. While Galen and Lyra believe that his energy research will be used purely in altruistic ways, Krennic has other plans that will finally make the Death Star a reality. Trapped in their benefactor's tightening grasp, the Ersos must untangle Krennic's web of deception to save themselves and the galaxy itself."
Did you catch the interesting part? How about that the novel will begin during The Clone Wars! Now in a blink-and-miss-it scene in Episode II: Attack of the Clones, we saw Separatists trying to hide their plans for what would become the Death Star. What's funny is Chancellor Palpatine was apparently building his own within The Republic… while pulling The Separatists' strings as well (talk about burning both ends of the candle). It will be interesting to see if the book touches on the fact that Orson Krennic, while working for The Republic, was also using Separatist plans to build his weapon system.
It's also great that Krennic (who will be played by Ben Mendelsohn in Rogue One) will play a prominent role in Catalyst. Luceno did a fantastic job writing about the rise of Grand Moff Tarkin in his last Star Wars book, so working on another Empire leader should come easy. It'll be great to learn what makes Krennic tick prior to seeing him in live-action. It'll be easier to pick up on subtle character nuances… including tidbits like his former friendship with Galen Erso!
Now of all the characters that have been revealed so far, very little has been exposed regarding Mads Mikkelsen's Galen Erso. All we know is that he was a brilliant scientist who felt guilty for the work he did for Rhe Empire (which, from the description, was apparently creating the weapon system for the Death Star). Getting a look at the relationship between Galen and Orson should be a great tone-setter for the events in Rogue One, as well as the relationship between Krennic and the main focus of the movie… Jyn Erso.
Orson Krennic saved Galen and his family from kidnappers, so if there's already a relationship between Jyn and Krennic, how will that play out in Rogue One? Was Jyn only assigned for the mission by Mon Mothma because of her past relationship? Could Krennic try to convince her to join The Empire? Catalyst has the potential to enrich the film with amazing connections and deeper motivations that will make it a must read for Star Wars fans.
It will be interesting to see if any other characters will show up in Catalyst. If the novel touches on the Clone Wars… will Saw Gerrera (to be played by Forest Whitaker) show up? What about any characters from Star Wars Rebels? There's been rumors swirling that the two properties will intertwine. Could this be the moment? I guess the only way to find out will be to pick up a copy of Catalyst: A Rogue One Novel when it's released on November 15th.