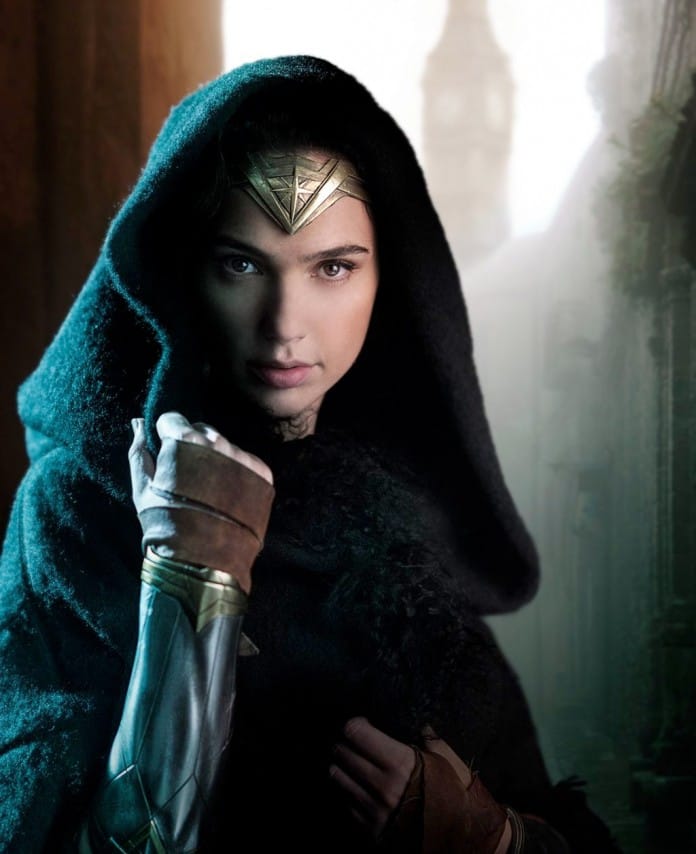 Recently, we got our first look at the set of the new Wonder Woman film directed by Patty Jenkins and staring Gal Gadot as the titular character. These Wonder Woman set pictures bring World War I England to life here in 2015. Wonder Woman (Gal Gadot) and Steve Trevor (Chris Pine) are seen wearing military garb in these Wonder Woman set pictures. Life-like scenery along with life-like uniforms will definitely raise this character to a whole new level of authenticity. If the DC Expanded Universe plays to Wonder Woman's comic book history, her creation is either the direct result of the Greek gods' machinations (imbuing a clay child with life at the behest of her 'mother,' Hippolyta) or she is, in fact, the daughter of Zeus. This means…she ages gracefully, or not at all.
Continuing with our analysis of these Wonder Woman set pictures, we see Co-Star Ewan Bremner sporting a gnarly-yet-fashionably-accurate mustache. A poster stating, "Your King and Country Need You, Enlist Now," is seen in the background. These posters were very commonly used in the World War I era between 1914 and 1918. A sign stating, "French Money Exchanged," suggests that the scene is question is when the soldiers were returning from France. Will Wonder Woman be hurling bi-planes at German A7V tanks on battlefields lined with cavernous foxholes and miles of snaking barbed wire?? These pictures make us more excited for the movie's release on June 23, 2017!
Wonder Woman, a period piece focusing on the exploits of Themyscira's chosen emissary waaaaaaay before her introduction in this year's forthcoming Batman v Superman film, is directed by Patty Jenkins and stars Gal Gadot (as Wonder Woman), Chris Pine (Steve Trevor), Robin Wright, David Thewlis, Elena Anaya, Danny Huston, Lucy Davis, Ewen Bremmer and Said Taghmaoui.