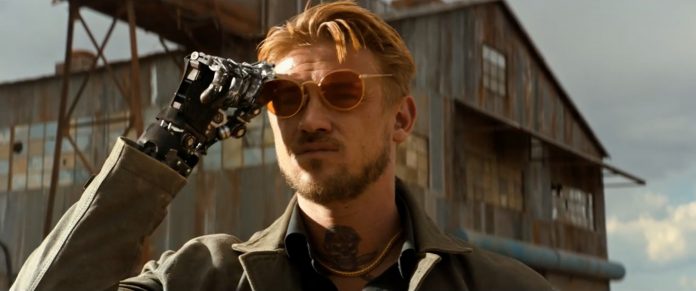 Yep, the ominous Instagram account wponx posted yet another image taken from the stark, noir-bathed world of LOGAN, the James Mangold-directed film featuring Hugh Jackman's final turn as the usually more capable Wolverine. Today's particularly depressing image is simply captioned "METAL," and features a singular, cybernetic hand resting comfortably against a car door. Is it the hand of the enemy, any number of cybernetic ruffians bent on securing X-23 for Nathaniel Essex? Perhaps.
So, we're already quite aware Logan will be battling the cybernetically enhanced Donald Pierce and his equally cybernetic entourage of violent assassins, the Reavers. Could this be an image of Donald's right arm, or an arbitrary Reaver-person considering his or her next move in the constant plot to stifle Wolverine? Yes, conceivably, it could be either of these options.
Look, Logan already has a lot on his place. He needs to drive that limousine so he can afford to live in…a corn silo? Yeah, and he also has to take care of an Alheimer's-stricken Professor Charles Xavier who won't shut up about 'the good old days' or that time he ihabited the mind of a cat. This Reaver and X-23 B.S. is absolutely not appreciated.
LOGAN currently has a release date of March 3rd, 2017 and stars Hugh Jackman, Patrick Stewart, Dafne Keen, Boyd Holbrook, Richard E. Grant, Stephen Merchant, Eriq La Salle and Elise Neal.