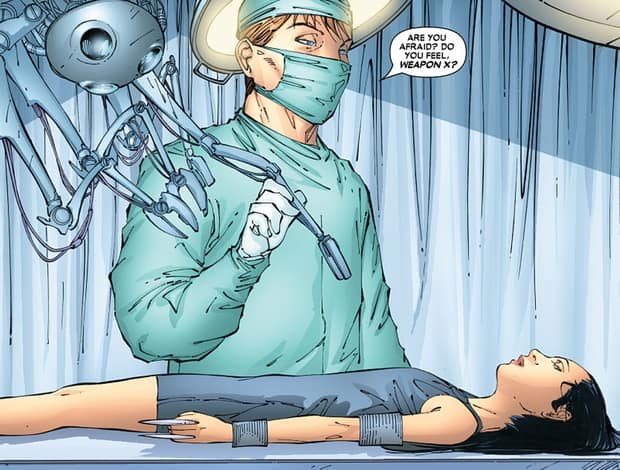 It's another dour, depressing, black and white image shared from the Wponx Instagram account granting us a succession of scenes pulled from the color-wrung, scarred and tattered world of LOGAN. This one, although effectively distressing, also reveals the identity of a major villain in LOGAN: meet Dr. Zander Rice, the head surgeon responsible for creating X-23 (at least, that's how it went in the comics). OBSERVE!
It was rumored that actor Richard E. Grant might be playing the slightly mad scientist Dr. Rice, so….thanks, Wponx Instagram account, for confirming Grant's character.
A few interesting things about Dr. Zander Rice:
As previously mentioned, he led the surgical team responsible for successfully cloning Wolverine and creating the hyperviolent X-23.
2. His father worked on the original Weapon X project and was brutally murdered by an escaping Wolverine while struggling to escape with a briefcase chocked full of vital Weapon X information.
Since an Essex Corp. employee procured some Wolverine blood samples at the end of X-Men: Age of Apocalypse, we've been hoping for a connection to Mister Sinister. Could Dr. Rice be under the ostentatiously dressed super-geneticist's employ? Hmm. Guess we'll have to wait to find out.
LOGAN currently has a release date of March 3rd, 2017 and stars Hugh Jackman, Patrick Stewart, Dafne Keen, Boyd Holbrook, Richard E. Grant, Stephen Merchant, Eriq La Salle and Elise Neal