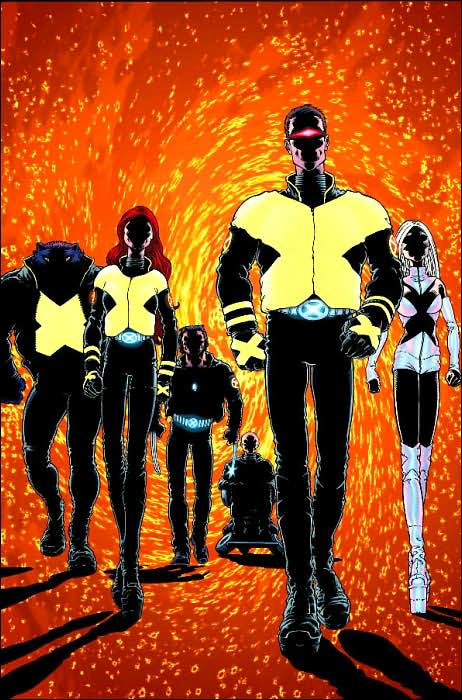 Responding directly to Apocalypse's Four Horseman assemblage taking place on a previous X-Men: Apocalypse poster, the X-Men STRIKE BACK! Yes, the new X-Men unite in this latest X-Men: Apocalypse poster!
Check it out!
Starting at the top – and from the left – we have Nightcrawler (Kodi Smit-McPhee), Jean Grey (Sophie Turner), and Cyclops (Tye Sheridan).
Bottom row – and from the left – we have Quicksilver (Evan Peters), Mystique (Jennifer Lawrence) and the Beast (Nicholas Hoult). Wow…Mystique is seriously front and center here. Not sure if I'm a fan of this.
Oh! And let's not forget the hair-deprived, spectral presence of Charles Xavier/Professor X (James McAvoy) looming in the background. Judging.
So, what do YOU think? Can this team of 12 to 14-year-olds take on an immortal, infinitely powered mutant and his older, wiser, a hell of a lot more experienced and a hell of a lot more powerful collection of Four Horseman?? I mean, one of them is freaking Magneto for crapsakes. How the hell is a 12-year-old Nightcrawler going to deal with Magneto? He's not; he's going to die, along with humanity and 75% of the Earth's surface. Way to pick 'em, Chuck.
X-Men: Apocalypse debuts May 27th, directed by Apocalypse who forces all his human actors to kneel before the relentless, murderous, arbitrary wave of genetic super-evolution!!
CLEANSE OUR WORLD, MIGHTY APOCALYPSE! MAKE US BETTER THROUGH ACTS OF MERCIFUL, GLOBAL ANNIHILATION!!!