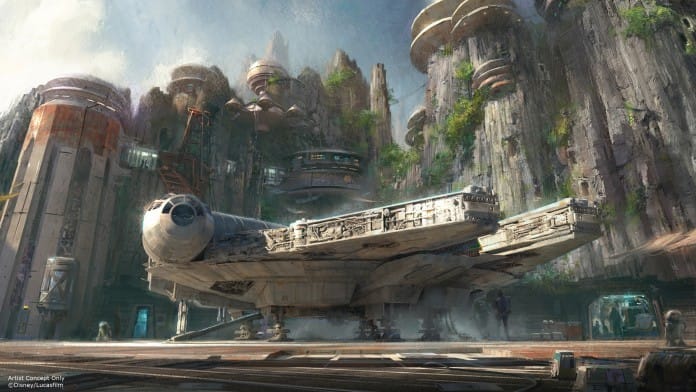 After years of hoping and dreaming by fans, it has been confirmed at the D23 EXPO by CEO Bob Iger, Disney will do a Star Wars expansion!
"I am thrilled to announce the next chapter in the long and exciting history between Disney Parks and Star Wars," said Iger. "Through each new attraction and new land we create, we push the boundaries of what is possible. And as you can imagine, with Star Wars, we are taking that to a whole new level, with a whole galaxy to explore."
Eeek! We are so excited to hear that our beloved Star Wars will get its own land in both Disney World, Orlando and Disney Land, Anaheim. While there are no dates for the opening at this time, we do know it is on its way.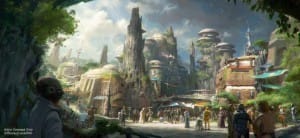 Lucky for us, there were some pretty cool concept art pieces released as well as details of what is in store! We can except the land to be modeled after one of the Star Wars planets, rumored to be Naboo, where you will interact with aliens, roam into cantinas, and anything else you can image from the SW universe.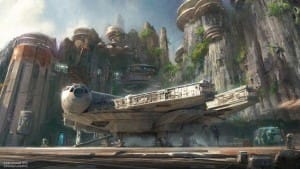 And of course, the land wouldn't be complete without rides! There will be two new rides coming our way, one featuring the Millennium Falcon and one where riders will be immersed in an epic battle. As you can imagine the experience does not end there! The original ride Star Tours: The Adventures Continue will get a Force Awakens update, the kid friendly Jedi Academy will have an update of its own and we will get a third new attraction called Star Wars Launch Bay where you can walk through and see art, clothes, props, etc. from the Star Wars universe.
While we may have a long while to wait for all of these new and exciting attractions to open, there will be a limited-time seasonal event called Star Wars: Season of the Force that will be launched in early 2016. This will feature a ton of limited-time only events, characters, and even Space Mountain will be transformed into Hyperspace Mountain just for the season! Lucky for us, this will be taking place in both US park locations.