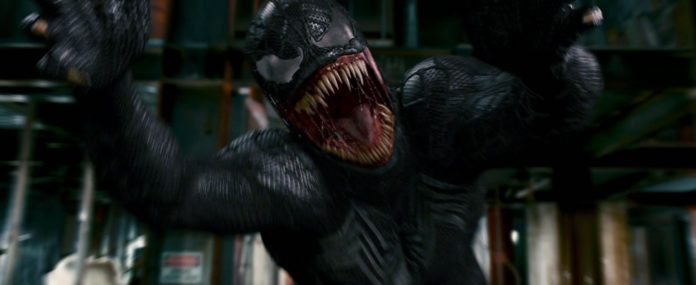 If you did a double take at that headline, you're not alone. While anticipation is still brewing for this summer's blockbuster Spider-Man: Homecoming, another bomb related to popular spider-powered people was dropped: Sony Pictures is planning on rolling out a Venom movie in 2018.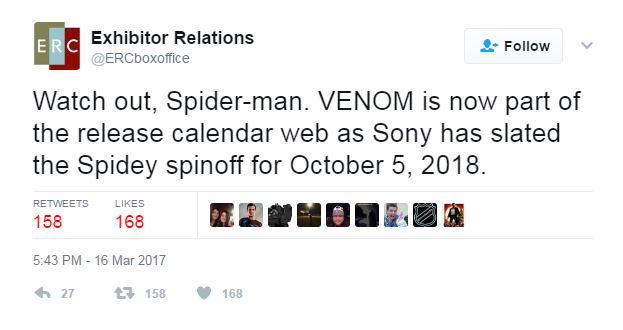 The above tweet comes from Exhibitor Relations, who used their contacts to flush out the news. Once the cat was out of the bag, The Hollywood Reporter got Sony to confirm the report and the October 5th release date. It was also rumored that Alex Kurtzman (directing this summer's The Mummy) would be the man behind the camera, but that doesn't seem to be the case anymore. What we do know is that a script was penned by Scott Rosenberg and Jeff Pinkner (both Kurtzman and Pinkner were writers for Amazing Spider-Man 2). So, hold on to your butts… because a Venom movie is happening.
But what about Marvel? At no point in any report does it say Marvel Studios is involved with the upcoming release. That's strange, considering the recent Marvel/Sony partnership over Tom Holland's version of Peter Parker. However, it's worth remembering that Parker is basically on loan to Marvel. Sony Pictures still owns the film rights to the character and his compatriots (including Venom). Separate from their Marvel deal, Sony is already churning out an animated Miles Morales Spider-Man movie, so perhaps they're looking to go solo with Venom as well.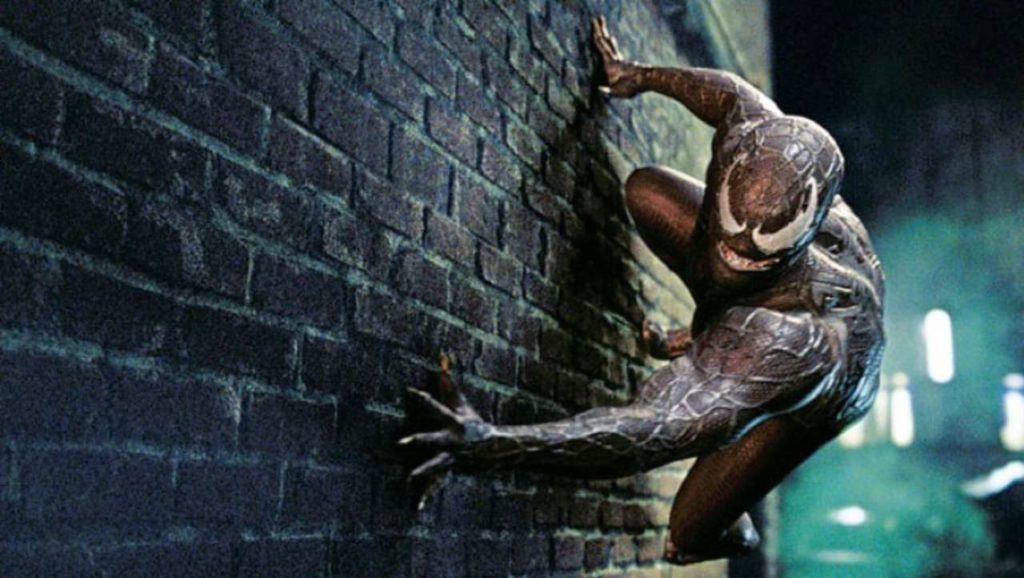 Of course, this could be the result of Sony's inability to keep secrets (remember that email hack a few years ago?).
Marvel Studios is known for keeping a tight seal on their projects and something like a Venom movie would be a perfect reveal for a Marvel panel at Comic-Con or the D-23 Expo.
It's worth noting that in recent years, Marvel has been adding an extra movie to its annual slate during the fall period (Doctor Strange and Thor: Ragnarok are both November releases). As of right now, there is no MCU movie set for a fall 2018 release. Perhaps that portion of the calendar was reserved for a secret Marvel/Sony movie: Venom.
If that's the case (and let's pray that it is and Sony isn't going rogue), this could be a golden opportunity for the Marvel Cinematic Universe. Venom could be treated like Deadpool was with the X-Men Universe, a standalone (possibly R-rated) movie that could be folded into a future MCU-based movie. You know, like July 2019's Spider-Man: Homecoming 2.
Let a Venom flick walk its own ath and have nothing to do with the rest of the MCU, which will be busy dealing with the fallout of Infinity War. Perhaps the symboite arrives due to something related to Thanos or The Guardians of the Galaxy traveling to Earth, but other than that sparse connectivity, the Venom movie should be its own thing.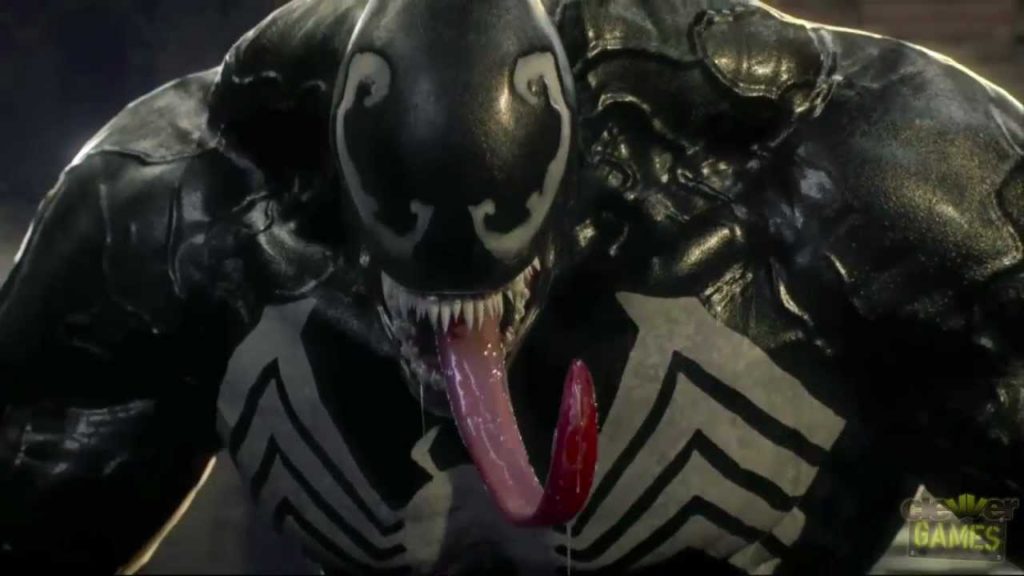 So, like it or not, we're getting a movie based on one of Spider-Man's favorite villains in a year-and-a-half. Will Marvel be involved? Let's hope so. Could Tom Holland appear? It's too soon to tell.
There's a good reason to have some apprehension with the news considering Sony's last go around with the webslinger (Amazing Spider-Man 2 was just not a good movie). Let's just all hold hands and pray that the studio comes to its senses and asks for help from Kevin Feige and the Marvel braintrust. If anyone can deliver a quality Eddie Brock-turned-Venom (and make sure Topher Grace is nowhere to be found), it's Marvel Studios.
So please, Sony Pictures, Venom is a beloved comic book character. Please don't mess this up.