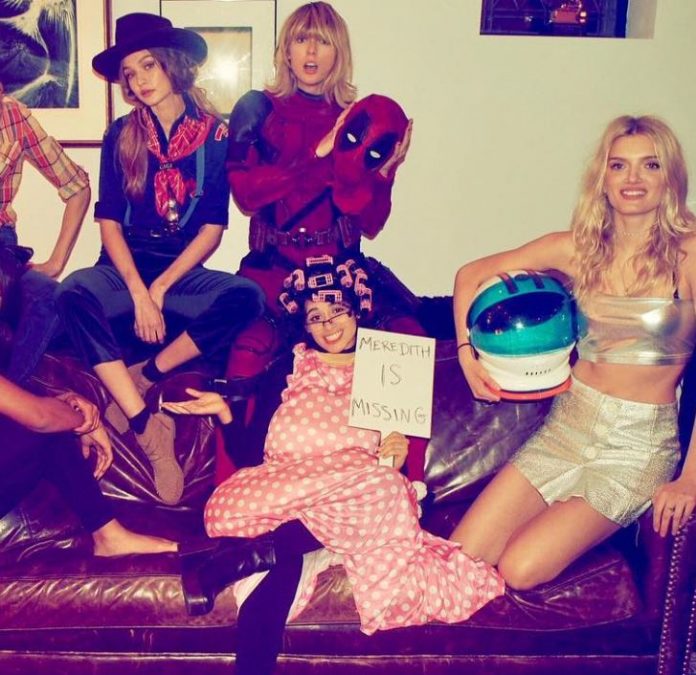 And apparently, for reasons I'm currently unaware of, we all give a crap. Yes, Pop Star Taylor Swift was, of course, prevalent on Instragram during her usual Halloween antics. This is not abnormal, considering I prefaced it with "her usual," and Instragram is sewn into her forearm. Anyway, yes, she dresses up for Halloween and it's a big to-do. Case in point:
One year, she was a 'Pegacorn'. Yay.
And the next, a Snowman. Yay.
But this year? This year, she's Deadpool.
Yep, it's Taylor and her usual, dependable gang including Martha Hunt, Gigi Hadid, Lily Donaldson, Emmie Gundler, and Camilla Cabello; they assembled to celebrate Halloween and Kennedy Rae's Birthday. And no, you don't have to know who any of these people are to follow the article.
So, it's Taylor Swift in a Deadpool costume. No big deal, right? She's not on fire or carrying a baby, so there's no reason to get worked up. I mean, she probably sent an assistant to Kohl's, who promptly paid for the costume in gold-plated fingernails and handed it over to the Deadpool-obsessed Swift.
Yes, this all sounds well, good and humorous, but it's just not the case; you see, she borrowed the costume from our good friend (and apparently, her good friend) Ryan Reynolds, the chap that effectively played the HELL out of Deadpool on the big screen. Here's your 'Insta-proof'-
"Thanks @vancityreynolds for this costume, you're the BEST Deadpool inside contact ever," Swift wrote on Instagram.
Yep, she borrowed an actual costume from the film; one worn by live-action Deadpool, Ryan Reynolds. What a time, am I right?