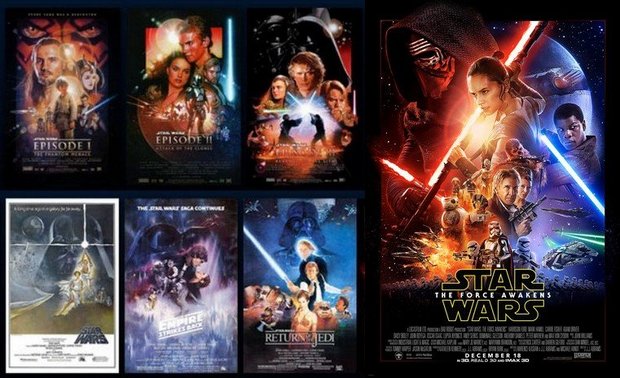 What? That's right; TBS and TNT will be positively suffused with the Force starting this September when the cable networks begin showing every Star Wars film to date…and more.
Today, Turner announced that licensing agreements with 20th Century Fox and Disney allow the company to be the "exclusive linear cable outlet for all Star Wars movies," according to the trade. To specify, this means we'll get all 6 of the Lucas-helmed films, those under J.J. Abrams' purview (including The Force Awakens hitting cable in 2017), and three more, upcoming Star Wars films including Rogue One (hitting cable in 2019.)
Deborah K. Bradley, executive VP of networks optimization, content strategy, and commercialization for Turner, made the following statement.
"The Star Wars movies and characters are beloved across generations, captivating audiences and breaking box office records around the globe for nearly four decades… Through this deal, TNT and TBS will be the exclusive basic cable home of one of the most iconic, enduring and valuable movie franchises of all time, giving viewers the chance to watch this amazing collection from the very beginning."
So, curious about the schedule? Well, as previously mentioned, the fun begins in just a few short days when TNT begins airing the first six films starting September 20th.

Tuesday, Sept. 20
8 p.m. and 11 p.m. (ET/PT) – The Phantom Menace
Wednesday, Sept. 21
8 p.m. and 11:05 p.m. (ET/PT) – Attack of the Clones
Thursday, Sept. 22
8 p.m. and 11:05 p.m. (ET/PT) – Revenge of the Sith
Friday, Sept. 23
8 p.m. and 10:45 p.m. (ET/PT) – Star Wars: A New Hope
Saturday, Sept. 24
10:45 a.m. (ET/PT) – The Phantom Menace
1:45 p.m. (ET/PT) – Attack of the Clones
4:55 p.m. (ET/PT) – Revenge of the Sith
8 p.m. and 10:45 p.m. (ET/PT) – The Empire Strikes Back
Sunday, Sept. 25
5:15 a.m. The Phantom Menace
8:15 a.m. Attack of the Clones
11:20 a.m. Revenge of the Sith
2:25 p.m. (ET/PT) – Star Wars: A New Hope
5:10 p.m. (ET/PT) – The Empire Strikes Back
8 p.m. and 11 p.m. (ET/PT) – Return of the Jedi
2 a.m. (ET/PT) – The Phantom Menace