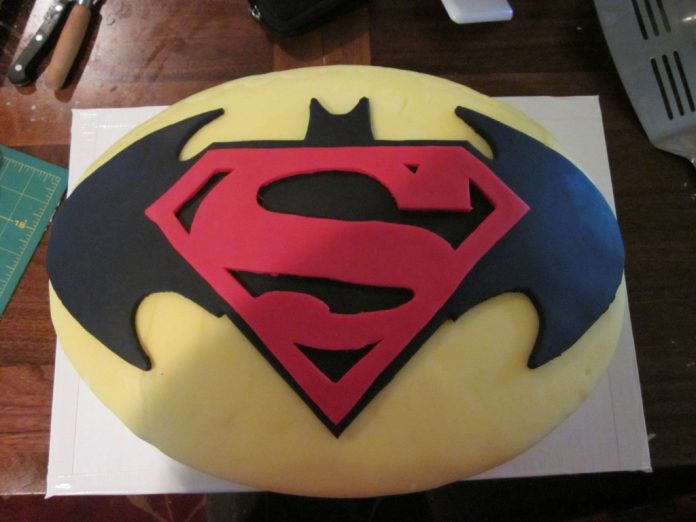 Whoa! Simmer down now! Whether you liked Batman V Superman: Dawn of Justice or not, it doesn't mean you get to drop kick a cake at Kroger's! Oh, it wasn't about the quality of the movie? That would have made a fantastic story about somebody who might be somewhat detached from reality. Joking aside, a women in Bloomfield Township, Michigan was arrested for wanton destruction involving a BvS cake. The reason? She was unhappy with the quality of the cake(no mention of the quality of the movie though).
"Officers spoke with the woman, who told police she was upset about the poor quality of the decoration. She said she went behind the counter because employees told her she could, and denied kicking the cake, saying it fell out of her hand. A witness told police she threw the cake to the ground, stepped on it several times and yelled, 'They f***ing ruined my seven-year-old's birthday cake!'"
Witnesses say that the woman tried to go behind the counter in order to fix the cake but the employees didn't want her back there. She then proceeded to drop kick the BvS cake and spread delicious Batman-Superman bits all over the store. The woman said she simply dropped the BvS cake and it fell out of her hands. Perhaps she would have calmed down if somebody would have akwardly forced a Jolly Rancher in her mouth? Actually, she was probably dehydrated and needed a big ol' swig of Granny's Peach Tea! The woman is currently facing disorderly conduct charges and has been ordered to appear in court. Hopefully she doesn't show up in a wheelchair!
Written by David S. Goyer and Chris Terrio, Batman V Superman: Dawn of Justice stars Ben Affleck, Henry Cavill, Amy Adams, Jesse Eisenberg, Diane Lane, Laurence Fishburne, Jeremy Irons, Holly Hunter and Gal Gadot. I wonder if the extended edition comes with a sweet BvS cake…or at least parts of it?