Here it is! It's the X-Men: Apocalypse Trailer #3 courtesy of FOX studios and a surprisingly friendly Apocalypse; he was actually amenable to filming the destruction of several teenage X-Men and several thousand acres of marketable real estate. Yes, it's En Sabah Nur, the very first mutant, and he's been awaiting his comeuppance in the birth canal of prehistory, amassing his followers, growing his power and bleeding his influence into the sacred text and tomes detailing our well-deserved end times.
Can a band of incredibly inexperienced, incredibly young X-Children take on the might of merciless destruction personified and his sullen band of murder-happy mutants?? Well…maybe, but only with a little help in the form of THE WOLVERINE!
His intervention might just grant those crazy X-Kids a fighting chance.
WOOO!
Ready for X-Men: Apocalypse? Then dress like you're ready with some of our best-selling X-Men T-Shirts!
Click HERE —> for our entire line of X-Men merchandise.
And don't forget our amazing, spectacular, uncanny, extreme, nearly apocalyptic Marvel Sale going on RIGHT NOW!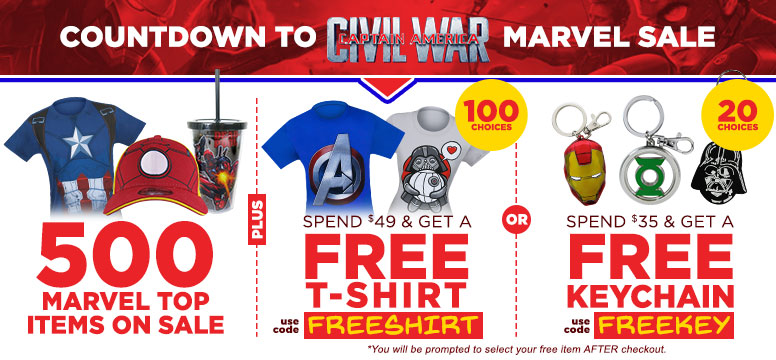 1. 500 of our best-selling Marvel items are now on sale!
2. Spend $49 and snag yourself a free t-shirt!
3. Spend $35 and earn yourself a free keychain!
Click the banner above and start SAVING!
X-Men: Apocalypse opens up May 27th, 2016 and stars James McAvoy, Michael Fassbender, Jennifer Lawrence, Oscar Isaac, Nicholas Hoult, Rose Byrne, Tye Sheridan, Sophie Turner, Olivia Munn and Lucas Till.