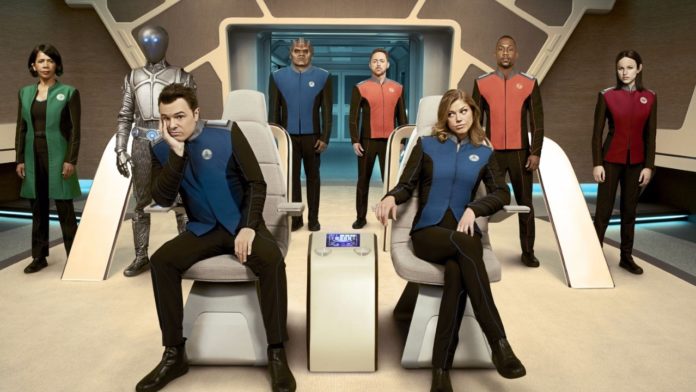 From the crazy mind of Seth MacFarlane, the creator responsible for Family Guy, Ted, and A Million Ways to Die in the West (to name a few), comes a brand-new avenue of comedic weirdness. The Orville, with its out-of-this-world trailer, is a space adventure that looks to be a cross between Star Trek and Galaxy Quest, and here's why it just might be interesting to follow this series once it comes out on Fox.
The Cast and Crew
Seth MacFarlane himself plays the commanding officer of the U.S.S. Orville, with Adrianne Palicki as his first officer, a.k.a. ex-wife. Jon Favreau is directing the show's pilot episode, so it's bound to be quality work. There are also plenty of Star Trek alums, namely, Penny Johnson and James Horan, while Star Trek: The Next Generation's Jonathan Frakes and Star Trek Voyager's Robert Duncan McNeil will be directing some episodes of the series behind the scenes.
MacFarlane's Experience with Cosmic Forces on Fox
According to Fox, "The Orville is a live-action, one-hour, ensemble comedic drama set 400 years in the future that follows the adventures of The Orville, a mid-level exploratory spaceship, as its crew, both human and alien, face the wonders and dangers of outer space, while also dealing with the familiar, often humorous problems of everyday life." And while this does sound a little too Star Trek-ish, Emmy Award-winning Seth MacFarlane himself is a fan and had previously teamed up with Fox in 2014 for a collaboration with the National Geographic Channel for Cosmos: A Spacetime Odyssey. It was hosted by Neil deGrasse Tyson.
Not Just for Laughs
In MacFarlane's interview with Inside Edition, he claimed that, as an hour-long show, The Orville will actually be telling a deeper story than one might expect. "It's not Family Guy in space," he says. "We are servicing the science fiction aspect as well. I think it is going to surprise people that we do do our heavy lifting – or least we try to – with the actual work of writing thoughtful science fiction."
Interestingly enough, even though the show is being billed as a complete comedy ala-Galaxy Quest, it actually has a genuine allegorical sci-fi aspect with a more optimistic tone. "The 90s was kind of a heyday for thoughtful sci-fi to me. Everything we were kind of fed was utopian and aspirational and now all we are getting is The Hunger Games. There is an attempt to infuse a lot of that into this show. And hopefully make it funny along the way," says MacFarlane.
The Actual U.S.S. Orville
In addition to CGI effects (which TV series are all about these days), The Orville is making use of an actual physical model of the U.S.S. Orville. The model was made by Oscar-winner Robert Legato, and the reason that the show decided to go old-school is because there's just something more authentic about it. "We use both in the series," says MacFarlane, "but a library of practical model shots always makes it more real because it's actual light hitting actual surface."
Aside from being a breath of fresh air from all the gloom and doom on TV these days, The Orville does sound promising, don't you think? Are you looking forward to the release of the show as well, or are you thinking it'll just be another slapstick mindless mess? Let us know your thoughts and comments below!