The list continues to grow for The Defenders' cast. The latest news: Elektra is back from the dead and confirmed for The Defenders. Announced on the official Twitter page, Elodie Yung is set to reprise her role as the trained assassin.
— The Defenders (@TheDefenders) November 7, 2016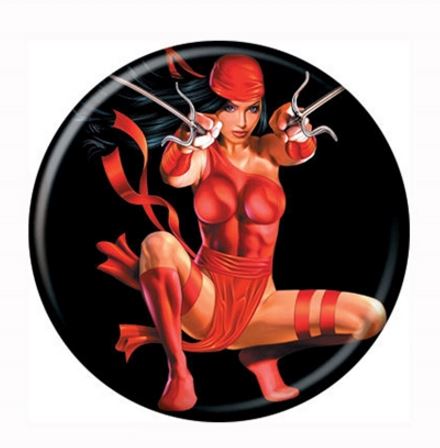 For those who didn't watch Daredevil Season 2 and don't mind spoilers, Elektra's fate was left up in the air in the season's finale. Formally Matt Murdock's lover, she came back for Matt's help in defeating The Hand (a group of mystical evil ninjas). You see, The Hand believed Elektra to be a mythical weapon, the Black Sky, and they wished to worship her. Sounds tempting, huh?
There was a moment she considered taking her role as The Black Sky, but stuck with Daredevil instead. This eventually led to her death in the season's final battle, and Matt was heartbroken.
Elektra was arguably the reason for Matt's strained relationships with Foggy and Karen, but he still loved her. Now, she's dead. Or so we think. The end of the season showed The Hand getting their…hands on Elektra's body and putting her exhumed corpse in some ancient device.
There were some theories as to what this meant and apparently with today's confirmation, it means Elektra is back from the dead and confirmed for The Defenders. My hopes for Matt in The Defenders is that he learns to stop pushing everyone away and learn teamwork. It broke my heart to see him and Foggy split up, and Karen needs to be in his life even if they're not romantically involved. But, Matt tends to make dumb decisions when Elektra's around, so how will this work out? How will they explain her coming back to life?
Will Elektra's need to kill OfFend the defenders?
All I know is we'll have to wait to find out what role Elektra plays in The Defenders!
The Defenders debuts on Netflix in 2017, starring Charlie Cox as Daredevil, Krysten Ritter as Jessica Jones, Finn Jones as Iron Fist, Mike Colter as Luke Cage, Jon Bernthal as The Punisher, Rosario Dawson as Claire Temple, Deborah Ann Woll as Karen Page, Simone Missick as the absolutely stunning in EVERY WAY Misty Knight, Elodie Yung as Elektra, Scott Glenn as the returning, cantankerous Stick, Elden Henson as Foggy Nelson, and Sigourney Weaver as….the villain.