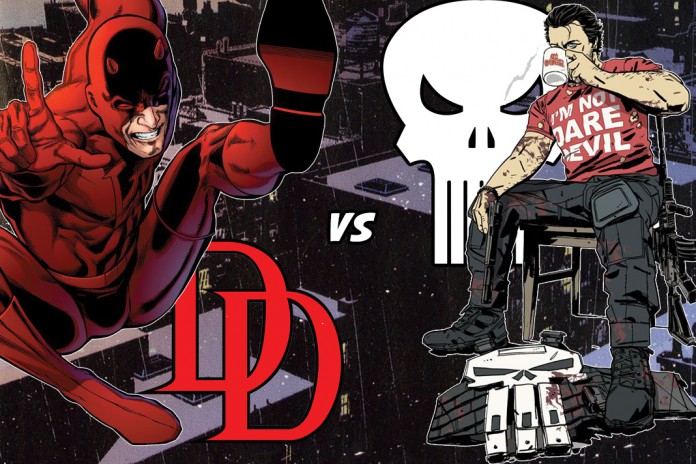 Decide who's going to win, but more importantly, HOW they're going to win, and you could win yourself a Limited Edition Daredevil HeroBox!!
On 3/18, Daredevil returns to Netflix and he's bringing some seriously determined opponents along with him! One particularly determined opponent is the skull-adorned, family-deprived vigilante, the Punisher! Frank Castle is coming to Hell's Kitchen and he's going to kill every criminalistic, gun-toting son of a b*tch with hand grenades, extremely long knives and assault rifles loaded with infinite ammunition.
Will Daredevil stand for this? NO WAY! Daredevil and the Punisher are going to absolutely THROW DOWN! Who's going to win? Well, we won't know how it'll play out on Netflix until 3/18, but we can DEFINITELY point these 2 contentious rivals at each other RIGHT NOW and speculate on who wins and HOW they win! Your necessary participation is simple:
From now until April 1st, enter (below) your suggested victor and his method (or methods) employed to attain victory. The most creative reasoning behind a chosen hero's victory will earn ONE lucky winner a FREE Limited Edition Daredevil HeroBox!  Also worth noting: following us on Twitter will get you an additional entry!
Here's what your entry will look like:
"_____will kick the CRAP out of _____because_____!!!!!"
Here's an example to get you started: "The Punisher will kick the CRAP out of Daredevil because Punisher will set a trap using advanced military tactics, successfully lure Daredevil into said trap, and then beat Daredevil unconscious with a glass butter dish." Yup. Now, enter your info into the form below!
a Rafflecopter giveaway

Now…go forward and tell us HOW your hero beats the living f### out of the other, less interesting hero!