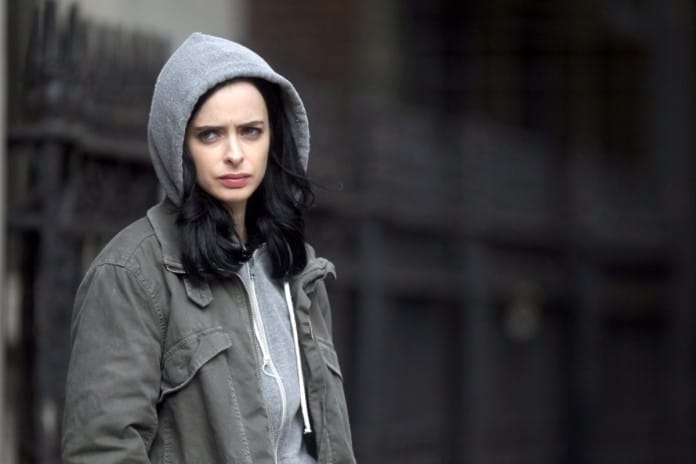 Reflecting on Marvel's Jessica Jones With This Helpful, Tidy Jessica Jones Wrap-Up!
This Thanksgiving weekend, fans everywhere had a chance to binge Marvel's newest Netflix series, Marvel's Jessica Jones, and if they did, they witnessed a streaming triumph on many different levels. Marvel's latest addition to its ever expanding television line up somehow managed to craft a story firmly set in the Marvel Universe that combined elements of post-modern super heroism combined with a classic noir sensibility, a detective story that juxtaposed classic narrative elements with modern ideas of gender and morality. Everything old was new again because Jessica Jones proved that genres can be meshed, gender roles can be shattered, and that a gritty, realistic crime drama can somehow exist in the same fictional reality as a talking raccoon and a sentient tree. Indeed, Marvel's Jessica Jones took fans to a place they haven't been before, into a dark world of seedy bars and cheap whisky combined with the heroic tropes that make the modern Marvel Cinematic Universe so darn compelling.
The genius of this show begins but does not end with the chemistry between protagonist Jessica Jones (Krysten Ritter), and antagonist, Kilgrave the Purple Man (David Tennant). The chess game between villain and heroine permeates every scene, every moment, and sweeps up the lives of the show's ensemble cast. The narrative never strays far from the Kilgrave/Jones war, and it is the pendulum on which all of our characters' stories swing.
Fans of the Alias comic will remember the complete physical and mental rape that Kilgrave put Jones through, and the TV series does not dilute this horrific experience. Jones is broken because of Kilgrave, and as the thirteen episodes of the series unfolds, we get to watch a reverse deconstruction of Jones who builds herself back from a reeling victim into a rock hard, self-sacrificing hero. It is that journey that makes this series so gripping, a journey that sees a woman who can barely get out of bed into a woman who is willing to sacrifice anything to make sure that Kilgrave never hurts anyone again. Like the comic version of Jessica Jones, Ritter's version of the character is not over sexualized or glamorous, she is an attractive woman, but weary, broken, defeated, and afraid. She really is a television heroine the likes of which genre fans have not seen before, a woman who is itching to be more yet afraid to try, a woman whose demons are very literal. In the early episodes, it is clear that Jones is afraid of nothing; she is willing to wade into any battle to even the odds or to help a neighbor, which is why it is so profoundly startling when it is revealed just how afraid of Kilgrave Jones truly is. The mere mention of her tormentor's name makes it seem like Jones wants to vomit in fear and loathing. This fear is what makes Jessica so special, because she faces it, not to ease her own burden or to get revenge but to make sure that others don't suffer like she did. And Krysten Ritter carried Jones' quiet dignity in spades. It's not easy to go from twitchy binge drinker to straight back paragon in the same scene, but the Breaking Bad alum pulled it off in spades. Ritter truly earned her place in Marvel's heroic pantheon.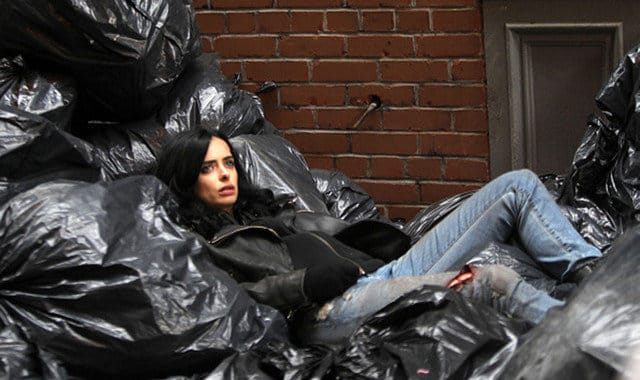 One might ask, "But what is a hero without a villain?" Unfortunately, Ritter's Jessica Jones got to square off against, arguably, the most unapologetically evil villain in Marvel film history. In the past few years, Marvel has come under a bit of scrutiny for its lack of quality villains in its films. Other than Loki, Marvel has not featured a show-stealing villain in most of its films and at worst, many villains just become obstacles for the hero rather than palpable threats. Marvel's Netflix shows don't seem to suffer that same problem. Vincent D'Onofrio set the bar very high with his performance as Wilson Fisk on Daredevil and Tennant reached that plateau and might even have even exceeded it as Kilgrave. Kilgrave was part debonair playboy, part spoiled child, part Dracula, and part Hannibal Lecter. Whenever the madman used his powers, the show utilized a purple motif that helped the villain live up to his original comic book moniker- The Purple Man. But this villain was a three dimensional beast, with foibles and quirks, fears and obsessions. Kilgrave's origin was multi-layered; he portrayed himself as an abused child, an innocent lab rat subjected to his parents' experimental tortures. But like everything with Kilgrave, this was a deceit and his true origin exposed the villain as the petulant cockroach he truly was. Through it all, Kilgrave was driven by the one thing he could never have, the one person to resist his power, Jessica Jones. He was not driven by greed like Kingpin or power like Loki, but by a spoiled need for acceptance. The chess match between hero and villain kept the narrative moving for thirteen episodes and it never got boring, not for a second, not if a viewer understands the nature of Jessica's PTSD and her need to free herself and her city from Kilgrave's machinations. It's an epic conflict, but unlike other Marvel hero versus villain struggles, the stakes were not the safety of the world or the galaxy like in Avengers or in Guardians of the Galaxy, the stakes of this series were the well being of one brave woman.
But don't for a second think that this was a two person show. Not at all, as an amazing ensemble cast was drawn into the Kilgrave/Jones conflict. First, there is Mike Colter as Luke Cage. Now, casting Luke Cage could have been problematic. Not many actors have the physical domineering presence that Cage needs while also having the heroic sincerity that defines this classic Marvel hero. Colter pulled it off and was so damn strong in the role that fans will be screaming for more. And more they will get when Luke Cage hits Netflix in his own series next year. In this series, Cage represented a better tomorrow for Jessica, a promise that her worst days are behind her. The scenes Ritter and Colter shared were dynamic, sexy as hell, and very real, as both character were scarred and battered but finally found each other. And yes Marvel fans, THAT scene was present in the show.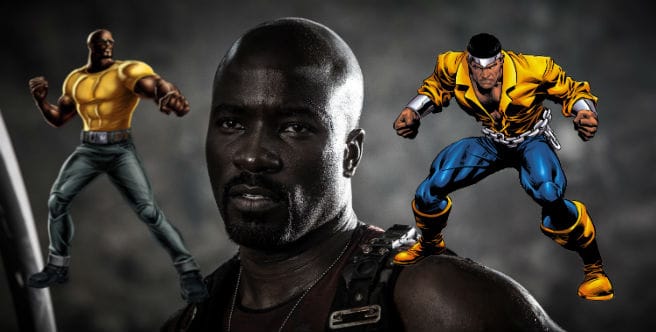 We also had Trisha "Patsy" Walker played by Rachel Taylor, Jessica' BFF and confidant. Somehow, through all the noir madness, this series managed to fit in the origin and history of one Patsy Walker, another old school, classic Marvel character (click HERE to read all about her comic book origins). Walker had demons of her own as she was trying to escape her past as an abused childhood star in order to make it as a radio talk show host. She was Jones' rock and the emotional center of the series. It was a fun friendship to watch develop and fans got to see all those classic Patsy Walker moments from the inclusion of her old school comic books to her awful stage mom. Fans will have to wait and see if Walker fully suits up into her more classic superhero identity, but I will say this, she's getting there, which is one of the reasons Marvel is so awesome these days. You see, Marvel builds the character first and costumed identities second, but when a hero does suit up, like in Daredevil, it is glorious.
There was also Keri Hogarth played by Carrie Ann-Moss. Hogarth was a morally ambiguous, shark of a lawyer who got caught up in Jones' world and in Kilgrave's plots. Hogarth's story was fascinating and brutally realistic as the series weaved in the lawyer's messy divorce with her wife into the already intricate plot of the series.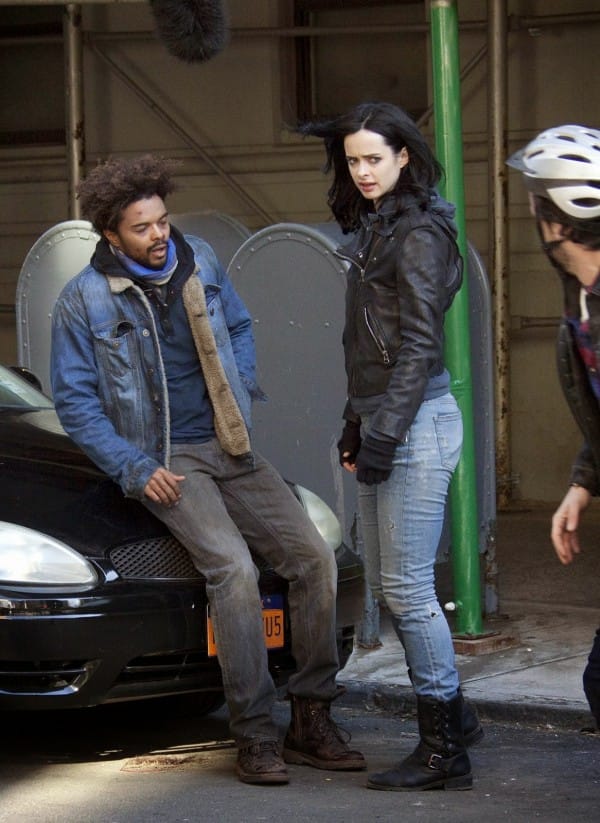 Add to this stacked cast Wil Traval as Will Simpson, a cop who carried a very dark secret of his own who was caught up in Kilgrave's web (and there was a revelation about Simpson that will blow old school Marvel fans' minds), Erin Moriarty as Hope Shlottman, a young girl whose tragic tale drew Jessica back into Kilgrave's web, and Eka Darville as Malcolm Ducasse, a young, kind-hearted junkie also caught between Jones and Kilgrave.
All these characters were magnificently woven together in a story that never strayed far from its noir roots, but also a story that never drowned in its own somber narrative. There were many laughs to be found in this show because through all the darkness, all the death, all the mental and physical violations inflicted by Kilgrave there was a clean layer of love and hope between the players of this super hero drama. At its heart, Marvel's Jessica Jones was a classic detective story with a thick layer of filth, but that filth couldn't dim the light of goodness that shined underneath the brackish noir darkness permeating every corner of this razor sharp thriller.
Bring on season two, Marvel did it again.