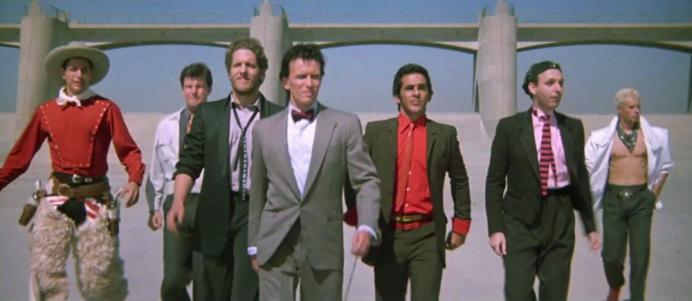 Entertainment Weekly is reporting that Kevin Smith is developing a television series based on the cult classic, The Adventures of Buckaroo Banzai Across the 8th Dimension.
The 1984 original starred Peter Weller as Buckaroo Banzai; he was a scientist, race car driver, rock star, and all around genius. He was helped in his adventures by his crack team the Hong Kong Cavaliers.
During a recent episode of his Hollywood Babble-On podcast, Smith said the opportunity presented itself after his recent turn directing an episode of The Flash.  That gig has apparently "opened up weird doors" according to Smith.
On Buckaroo Banzai, Smith went on to call it "one of my favorite movies in the world and largely responsible for the weird s‑‑‑ that I make, because that movie was supposed to be one thing but it did it in another way. It just did it very off-center."
Smith says the first season of the proposed show would be a retelling of the original movie with season two moving into the long awaited sequel that was teased at the end of the original movie, Buckaroo Banzai versus the World Crime League,
This approach, adapting the original movie source material to a longer television season format has worked well for From Dusk Til Dawn on the El Rey Network. I'm interested to see how Smith would adapt Buckaroo Banzai.
No word yet on whether or not Jason Mewes will play John Bigboote.
Buckaroo Banzai was a 1980s homage to Doc Savage. In addition to Weller, the cast also included John Lithgow, Ellen Barkin, Christopher Lloyd, Jeff Goldblum and Clancy Brown.
Who would you like to see as the new Buckaroo Banzai?  Tell us below.