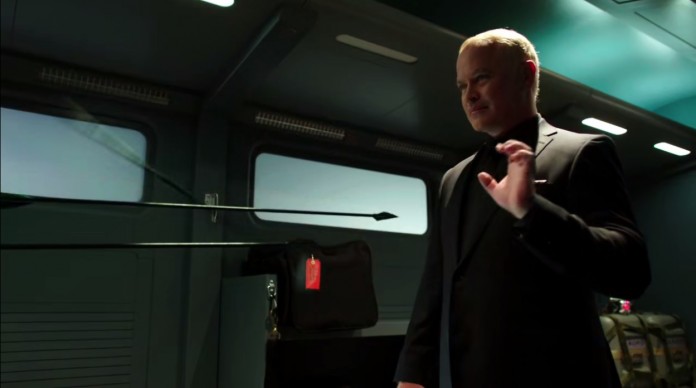 Check out the extended trailer (below) promoting Arrow's midseason return on January 20th! Yep, Arrow returns to the CW after its little pre-midseason (is that accurate?) break with Episode 10: "Blood Debts." If you haven't seen Episode 9: "Dark Waters," then I suggest you stop reading now. If you have, then please join me in positing the following question: WHY!!?? Why, Damien Darhk, with that stupid, nonsensical 'h' nestled in your name, have you hurt my sweet, perfect, immaculate Felicity!!???? NOOOO! Well, guess what? You're not going to get away with this! No, sir! Don't believe me? Then check out the f**king promotional trailer! You are about to find yourself in a world of sh*t!!!
That's right, Darhk, Arrow is going to freaking KILL YOU! And if Felicity comes out of surgery with an extra arm, leg or esophagus, he's going to KILL YOU AND BEAT YOUR CORPSE with Felicity's extra arm, leg or esophagus!
Take it away, official CW synopsis!
"THE AFTERMATH — Oliver (Stephen Amell) must deal with the devastating consequences of Darhk's (guest star Neal McDonough) last attack. Seeking revenge, Oliver goes on a brutal manhunt looking for Dahrk. Jesse Warn directed the episode written by Oscar Balderrama & Sarah Tarkoff."