Luke Cage occupies a special place in Marvel Comics. The guy is nearly indestructible and has a large cult following. It is of no small surprise then that Netflix would option Luke Cage and get him his very own TV show! Unfortunately Luke Cage won't have his original costume but if you watch the below clip for the new Luke Cage trailer you won't be disappointed.
You want some. #LukeCage pic.twitter.com/hN2NkDWQwJ

— Luke Cage (@LukeCage) September 8, 2016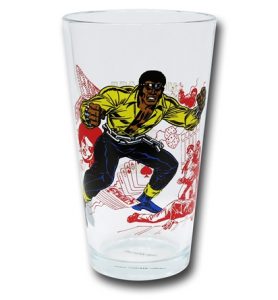 Originally making his first live appearance on Jessica Jones, Luke Cage possesses diamond-hard skin and super-strength. That should be pretty obvious though from watching the new Luke Cage trailer! Pretty sweet how he defeated that entire group of bad guys with very little effort. Guess that is one of the side effects of being impervious to most forms of conventional weapons. Takes a whole new meaning to that whole 'rope-a-dope' strategy, doesn't it?
All episodes of Luke Cage are scheduled to hit Netflix on September 30th, 2016. Luke Cage stars Mike Colter, Mahershala Ali, Alfre Woodard, Simone Missick, Theo Rossi, Frank Whaley, and Sônia Braga. Early reviews have been positive so far so it looks like Luke Cage will be a welcome addition to Daredevil and Jessica Jones. Now the real question is how will Luke Cage and Iron Fist play off each other? That's the real buddy flick everybody wants to see!