The start of this particular episode threw me off – at first, I thought it was a commercial till we saw Carol…and even then, I started to think perhaps it was for a brand new mobile game or something. A Day In The Life of Carol or Carolcraft. Peppy tunes, death, cookies, and just generally being a friendly person. At least we got to see Carol again and she delivered her murder-cookies. Beet, acorn…and maybe a bit of zombie skull. Maybe. I feel like the dynamic between Carol and Morgan are basically two extremes. One wants to destroy everybody and one wants to protect everybody. They serve the metaphorical devil and angel on Rick's shoulder on this episode of The Walking Dead, 'Not Tomorrow Yet'.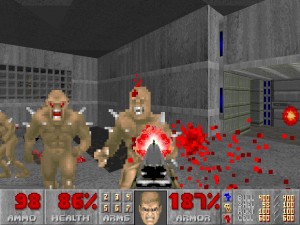 "Maggie hammered out a deal." I always love the words people chose to use while trying to pitch something. I kinda pictured somebody in the pews leaning in, close to a friend, and whispering 'You mean we are just going to roll in and kill strangers? Can't we just like, go farm or something?' It didn't seem like there were many objections other than Morgan for a preemptive strike. I guess the zombie apocalypse makes one a little jumpy and easily swayed by group mentality. Do I also detect a bit of wavering on Carol's resolve? That was probably a kiss of death on her new friend. We'll get back to that later. There seems to have been a lot of relationship drama in 'Not Tomorrow Yet'. Again, one can only wonder if the eve of battle tends to 'speed things up' a bit, as it were. At least they had a plan…and it was drawn down! Ah, sorry about that folks. I think there may be some kind of correlation between sarcasm and lunar cycles.
I liked how Gabriel had a sniper rifle and he's still dressed as a preacher. I kinda hoped that he would finally end up being useful and a badass at the same time…you know, like that sniper in Saving Private Ryan. Snipers are always way more badass while spouting off religious quotes. It just makes thing so…creepily effective and Gabriel might be good in that role, right? Ah, I'm probably just being hopeful. It also seemed like everybody had some issues with killing to go against that backdrop of relationship drama. Nobody really wanted to kill and Morgan, again, is the only person who is really doing anything about it. Everybody else kinda just went with and figured well, 'maybe they just won't have to shoot anybody…but damn, holding guns is fun'! I also want to give credit to Rick for his ingenious zombie head plan. Negan wants Gregory's head…and Rick has a plan! Say, why didn't they have that drawn down in the plan? Probably ran out of red crayon long ago. "Those Saviors are scary, but this prick doesn't have anything on you." Glorious!
I have to say, I like the setup of Negan's base at first glance. It reminded me of something out of Fallout. The red lights, the huge satellite dish, the immediate greeting by hostile guards who chirp off profanity. Ahh…profanity. There is probably going to be a rather excessive amount of that to come and it is nice to hear on cable TV…I remember when we never even heard the word 'ass' on TV. Now look how far we've come! Rick's group moved with cunning and speed as they worked through Negan's base without making a sound and killing people in their sleep. Kudos to Glenn – that was exceptionally brutal to watch. It seemed like he lost a part of his humanity somewhere in there. Poor bastard. Then we get some more foreshadowing with some gruesome pictures. Couldn't have come at a worse time, eh Glenny-boy? We'll get back to that later. I seemed to be writing that a lot for this episode. It seemed like everybody in this episode were playing rogues or theives in the Dungeons and Dragons sense. They are great for doing damage and sneaking around but sooner or later, you lose your stealth or your initiative and then you're dead in the water. I say that because that's exactly what happened in this episode. Hopefully they have some vanishing powders or they can make their hide/sneak check but that's got to be pretty high with that alarm going off.
Ah, and just like playing a video game…when it hits, it hits. Rick's group turns those rifles to full auto and proceeded through the rest of Negan's base like they were playing Call of Duty. What, no drones or anything like that? Awww. That looked amazingly fun, but then I realized I was still watching a Walking Dead episode and not playing a game. Nobody in Rick's group took any damage while they plowed through Negan's soldiers like through were wet tissue paper. I think the Putties from Power Rangers seemed to be more dangerous. To put it in perspective, Gabriel got a kill…and he was spouting off religious quotes! I got my wish at least, right?
The episode finishes off with the group celebrating their victory…only for Michonne to realize that, 'Hey, weren't we looking for some Negan guy'? Guess that came a little too late because we now have a hostage situation to hold us over till next week. All in all, this was another pretty solid episode of The Walking Dead. The creators and writers are doing a fine job at building up Negan to be truly threatening and I think we'll all be very pleased(and insanely shocked) when he does finally decide to swing in.