Check out Our Review [WITH SPOILERS] of Star Wars Rebels Episode 20: "The Mystery of Chopper Base."
It was one last mission for the crew of The Ghost, as our heroes are getting ready to split up before next week's season finale. Plus there were giant spider things… like a whole bunch of giant spider things. I probably should have lead with that.
"The Mystery of Chopper Base" could have just been an episode designed to set up the end of Season 2… but instead handed out some great action sprinkled with some fun and touching moments. We start the episode with the Rebel Alliance getting nice and comfy in their new deserted desert planet base, but naturally…things don't go as planned.
When A-Wing pilot Deiser gets abducted by giant spiders, Sabine and everyone's favorite Clone Trooper, Rex, set out to find her, but Rex gets snatched up as well. Well, mess with Rex and you're messing with the rest of The Ghost; Kanan, Ezra, Hera, Sabine and Zeb head into the spider's cave to retrieve their friend (but they completely forget about Deiser… I mean they just left her for dead).
Inside the cave, the crew braces for their future. Needing to split up, Ezra and Kanan separate themselves from Hera, Sabine and Zeb in their pursuit of Rex. We know that Jedi are tracked by The Inquisitors through the Force, so staying on the base puts everyone in jeopardy. Their impending departure irked Hera throughout the episode and she was quick to send Ezra and Kanan on their own path, knowing they wouldn't be able to rely on Jedi powers in the future.
Half of "The Mystery of Chopper Base" revolved around The Ghost crew going head-to-head with an army of giant spiders. We saw Rex dropkick one out of their spaceship, and Kanan and Ezra slice a bunch in half… and eventually Force-throw Sabine over a pile of spiders to retrieve a homing beacon (the only thing to scare these space spiders away). Star Wars Rebels has mastered the action scenes for an animated show, especially when our heroes are going up against giant monsters (which seems to happen every other episode now).
With the fight scenes out of the way… it was time for the Ghost members to say their goodbyes. Up first was Ezra and Zeb. We normally see their brother-like relationship delve into straight-up tomfoolery. However, this episode we finally got to see the two alone; they were watching the sunset and bracing for their separation. Zeb offered Ezra a drink and kind words related to a sit-down after the war so they could swap war stories (like the war will ever end). It was a touching moment, but not like the one Kanan and Hera shared.
From Star Wars Rebels to the novel A New Dawn, The Twi'lek Hera and Jedi Master Kanan have had an unspoken romantic bond. It's clear the two cared for each other, even if they never openly said it. But after being pushed by Sabine, Kanan approached Hera… and not knowing if he'd ever see her again, embraced her. If you cared about these two characters, this was the moment you wanted to see. Sure, Jedi aren't supposed to fall in love, but Kanan is far from a traditional Jedi, and it seems the Force has intervened for him and Hera to finally go for it.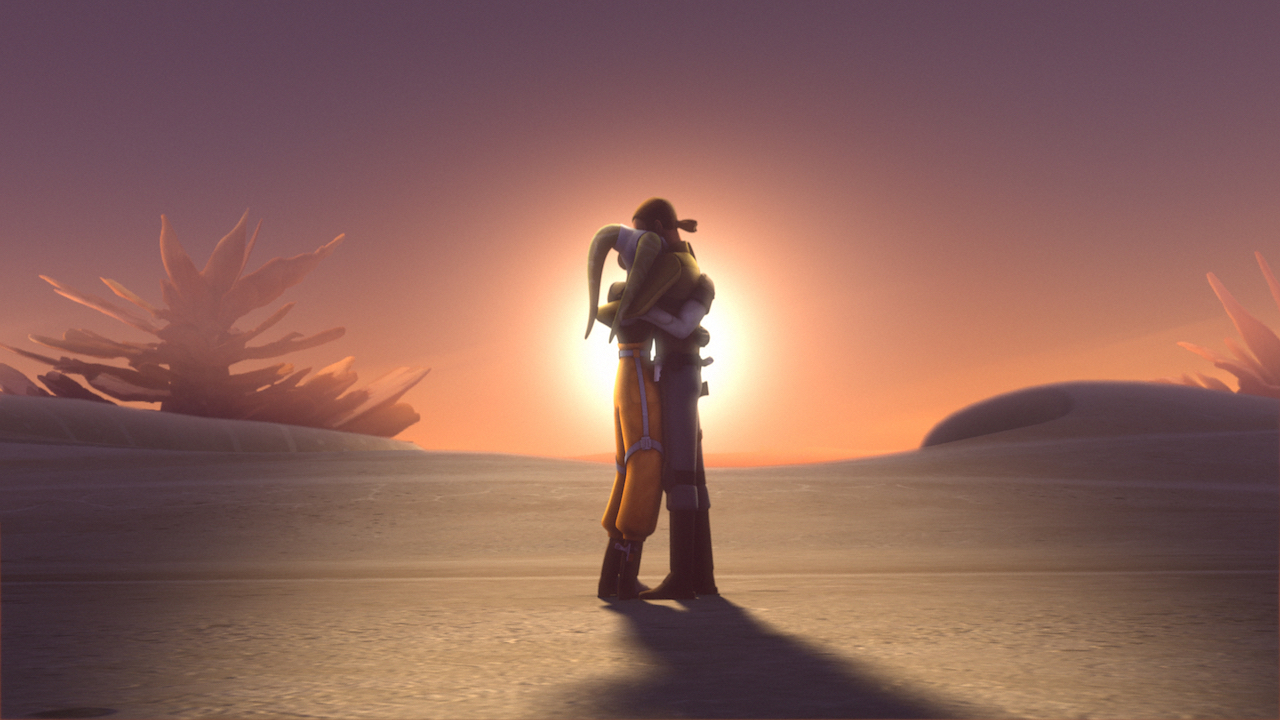 With the Season Finale coming up fast, it appears the happy moments won't last long. We know the Jedi's Kanan, Ezra and Ashoka Tano are heading to a Sith Temple (where chaos is sure to ensue). As for the rest of the group, their desert base will most likely not offer protection for long, as The Empire is always on the move. With only one episode left – and it's an hour long – there's a lot of loose ends to wrap up, with probably a few cliffhangers thrown into the mix.