If you're finding it a huge challenge to try to scrape by 2020, here's on huge reason to keep at it: LEGO Star Wars: Skywalker Saga will be out in the spring of 2021 for PlayStation 4, Xbox One, PC, and Nintendo Switch, and there's a whole bunch of stuff to look forward to for fans and non-fans alike.
 There will be a whopping 200 playable characters in the game.
LEGO games have always been known for their huge roster of playable characters you can unlock as you go through the game, but for the Skywalker Saga, there will be 200 of them—so get ready to get your gold bricks on.
It only makes sense for the game to have that much star power. After all, the game is a massive undertaking, with nine sagas that players can choose to experience in any way (and any order) they want to. Of course, it's as family-friendly as LEGO games can get, and judging from the gameplay trailer alone, you can already pretty much get a sense of that same LEGO humor we all know and love injected into the game.
2.  There will be DLC sets galore.
As if the game itself doesn't already have enough worlds for players to explore, there will also be six DLC packs that will feature content from Rogue One: A Star Wars Story, The Mandalorian, Solo: A Star Wars Story, and Star Wars: The Bad Batch. Typical of other LEGO games, a physical copy will come with an adorable mini-figure in the form of Blue Milk Luke Skywalker (because even blue milk needs some lovin').
3.  There will be physical sets galore, too.
With most of them already available for purchase right now, 10 physical LEGO Star Wars sets will not only be really, really cool to play with, but they'll also feature codes that can unlock certain content in the upcoming video game. Sets include Knights of Ren Transport Ship, Death Star Final Duel, 501st Legion Clone Troopers, Armored Assault Tank (AAT), Anakin's Jedi Interceptor, The Razor Crest (this comes with Baby Yoda!), AT-AT, General Grevious' Starfighter, Resistance I-TS Transport, and LEGO Star Wars: Advent Calendar.
4.  There will be super cool lightsaber-play involved.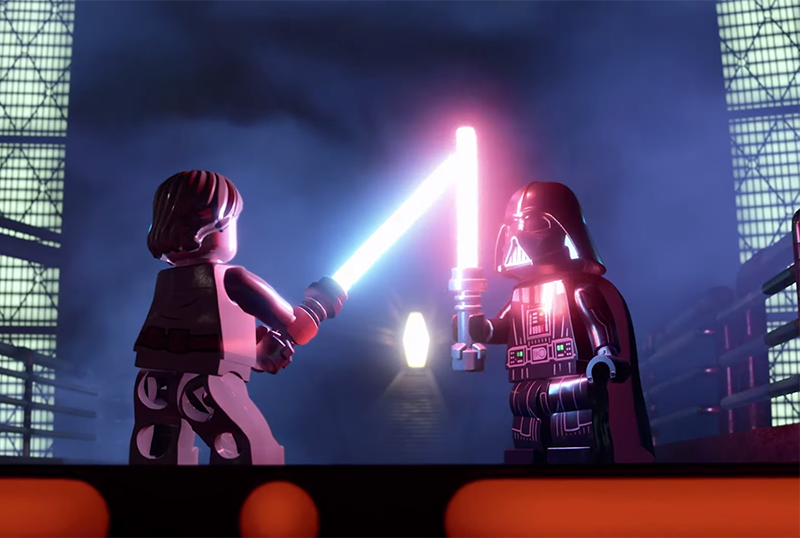 One thing that makes this game stand out from others is the fact that the developers incorporated lots of opportunities for players to wield their lightsabers throughout the game. According to Craig Derrick, managing producer at Lucasfilm Games, "In Star Wars: The Last Jedi, we have these iconic lightsaber moments, such as the throne room scene with Rey and Kylo Ren fighting the Praetorian Guards and the epic confrontation between Master Luke Skywalker and Kylo Ren later in the film. In both situations and throughout the game, we need to create unique gameplay situations while also adding humor and irreverence. I think we succeeded with one subtle moment in particular during the Luke/Kylo fight that I find so funny, yet totally in character that I laugh out loud every time I see it."
So, excited for 2021 yet? Don't worry—we feel you! Let us know what YOU'RE most excited about in the comments below!