Look, you already brought back the Micronuats, ROM Spaceknight, and freaking M.A.S.K., so why not the g-darn Shogun Warriors?? Wait. Who/what is/are the Shogun Warriors?? Well, they're giant super-robots. Stop pacing, sit down, and let me explain.
The Shogun Warriors were the central characters in a toyline licensed by Mattel during the late 1970s; these mega-sized super-mechs were imported Japanese robots based on various anime and 'Tokusatsu' series (roughly translating to live-action shows heavy on special effects) featuring, yes, giant robots.

Mattel's line offered these robots in 24-inch (610 mm) plastic versions (ME! I HAD THOSE!), 3.5-inch (89 mm) die-cast metal versions (ME! They were stuffed in my Christmas stocking!), and the slightly taller but more detailed 5-inch (127 mm) die-cast versions. Oh, and they fired spring-loaded, plastic projectiles including, in some cases, one of their significantly sized fists – a veritable "Rocket Punch," if you will. And yes, several children lost an eye, leading to safety concerns and the toyline's eventual dissolution.
The specific super-destructive, human-controlled, monstrous weapons for good included, in various forms, the following imported characters:
17 Robot
Combattra
Daimos- HAD IT! (24-inch monstrosity)
Dangard Ace
Dragun- HAD IT! (24-inch monstrosity)
Gaiking- HAD IT! (24-inch monstrosity)
Grendizer
Great Mazinger- HAD IT! (24-inch monstrosity)
Leopardon
Poseidon
Raydeen- HAD IT! (24-inch monstrosity)
Voltes V
Raider
To support the toyline before its contentious eye-gouging days, Shogun Warriors was also licensed to Marvel; they created a comic book series lasting 20 issues from February 1979 to September 1980. Written by Doug Moench and drawn by Herb Trimpe, the Shogun Warriors were created by a mysterious group called The Followers of the Light. The 'Followers' mission? To select pilots from all over the world to effectively control these technological behemoths in an effort to combat evil. Comparably sized evil, of course.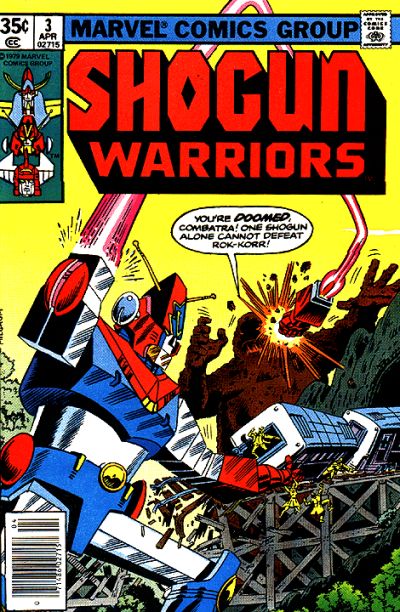 OH! And Shogun Warriors was firmly rooted within the shared Marvel Universe. Heck, Mister Fantastic stopped by, and so did Tony Stark, seeing as how they were targets of an alien race seeking to destroy paradigms of exceptionally advanced technology and various, incredibly persistent super-persons.
As previously mentioned, due to safety concerns brought about by spring-loaded battle-axes severing toddlers' corneas, the toyline – and therefore the comic series -faded into a substantial, but surprisingly finite, state of obscurity.
In 2010, there were rumors of a live-action film, and a supporting comic book series published through Dynamite and helmed by painter/illustrator Alex Ross. Things seemed promising…until they weren't. Unfortunately, that too, like a blustering tide retreating to the sea, recoiled back into the realm of wistful possibility.
Several years ago, Toei Animation announced a live-action Gaiking movie co-produced with Gale Anne Hurd's Valhalla Entertainment (producers of The Walking Dead) and ANEW (All Nippon Entertainment Works). According to our good friends at The Good, the Bad, and Godzilla, and as of May 2015, production is still moving forward along with the promise of several more live-action, super-robot films. This does, in fact, sound promising.
So, IDW; resuscitator of our late-70s, early-80s dreams: Please, please, PLEASE consider the Shogun Warriors! There's live-action goodness coming down the pike and I'm sure Toei would LOVE some American promotional support in the form of an amazing comic book series. Just make sure you recruit Warren Ellis to write it; he'll weave a hard science fiction masterpiece the likes of which Shogun Warrior fans (all 14 of you) will be praising – and reenacting with cardboard boxes and styrofoam egg containers – for years to come.