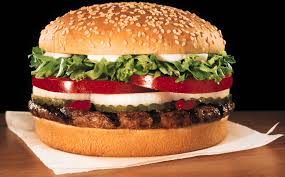 After a conversation last week with a college classmate of mine and fellow Source co-writer Teddy Byrne, I began reminiscing about fast food tie-ins. Some younger readers might not remember this, but back in the day (which was a Wednesday according to Dane Cook) — before people got all uppity about fast food — big movies, even PG-13 rated ones, had fast food tie-ins: promotional cups for all ages, or promotional products/prizes/toys that usually came with a kids' meal. If you were a summer movie, you had a fast food tie-in. It was practically law.
So, without further ado, here are some of my favorite fast food tie-ins!
1. Burger King's Star Wars Episode III: Revenge of the Sith Watches
Back in 2005, Star Wars fever was seemingly at an all-time pitch. Revenge of the Sith was not only the final prequel film, but also the FINAL Star Wars movie. George Lucas said so!
So around the time of ROTS came out, we fans ate up everything Star Wars 'cause we thought this was the last hurrah for Yoda and company. And yes, I mean we literally "ate up everything" because at Burger King, they had a Burger King Kids Club meal with Star Wars figures…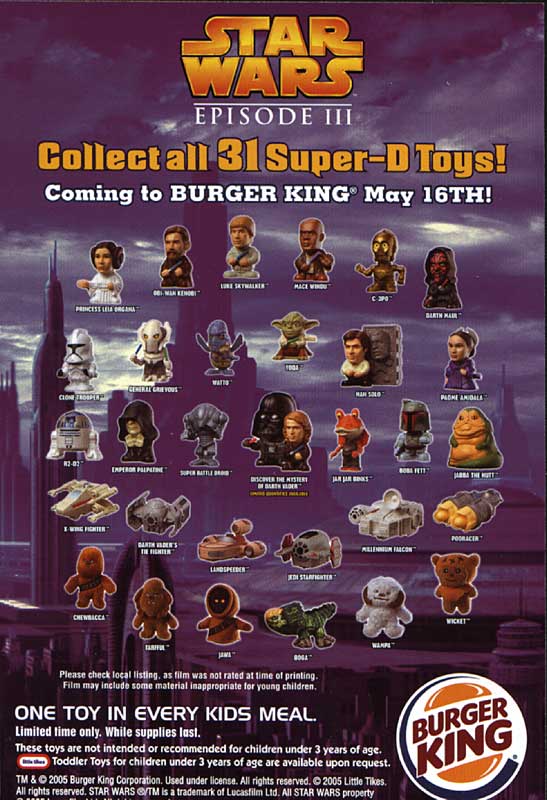 For the adult customers like myself, Burger King had something else. What did we get? We got watches!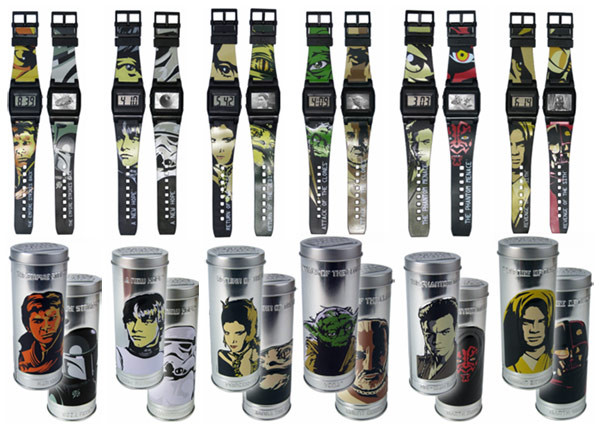 I had the Han Solo/Boba Fett watch. It was awesome. Granted, I wasn't the picture of cool when I was 20 (some may say I'm still not), but I felt like a boss. On my watch, not only did you get one of the coolest characters in the Star Wars universe, but you got both of them!
2. Burger King's Spider-Man 3 'Which Spidey Suits You?' Scratch Ticket
In the summer of 2007, Burger King gave away tickets with value meal items where you could choose a prize from either the classic Spider-Man suit or the black symbiote costume.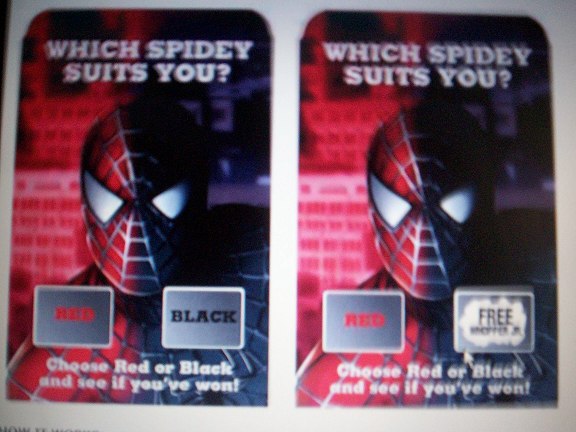 I knew I was never going to win the mega prizes like a new car, but it was fun knowing there might be chance I'd win free french fries or a 4-piece chicken tender basket-thing.
3. The Kong-Sized Whopper at Burger King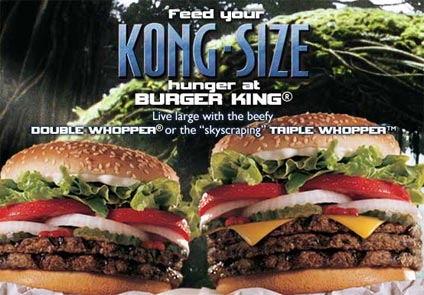 The conversation with Teddy that inspired this article was about the newest trailer for Kong: Skull Island. Not only did we both agree that it looked awesome, but it got me reminiscing. I began thinking about not just the 2005 Peter Jackson King Kong remake, but also about the Burger King tie-in with it. For a limited time (aren't all promotions?), you got what was called the "Kong Sized Whopper, "later called the Triple Whopper. It was THREE all-beef patties! You didn't think stuff like that was possible. The 00's were wild times, kids.
After a psyche final in the fall semester of 2005, I trekked through the snow to the BK Lounge behind Keene State College (GO OWLS!) and treated myself to the Kong Sized Whopper, an order of onion rings, and a large chocolate banana shake. It tasted AMAZING! Maybe it was because the stress of college finals had finally subsided, leading to a heightened permeation of brain-flooding endorphins, but it tasted like heaven inside a sesame seed bun with a side of chocolate and banana-flavored paradise!
This wasn't just a meal, it was a celebration. Easily a top-three meal experienced during my lifetime.
4. McDonald's Batman Forever Glass Mugs
Now, this is one of my fondest memories growing up. In 1995, Batman Forever hit theaters. It was THE summer movie. It had everything going for it: Batman back on the big screen, Robin finally appearing in a movie, and Jim Carrey — who was red hot after The Mask and Dumb and Dumber —  as the Riddler!
That summer, McDonald's jumped on the Bat-wagon by releasing Batman Forever glass mugs! And guess what? My brother and I got all four of them!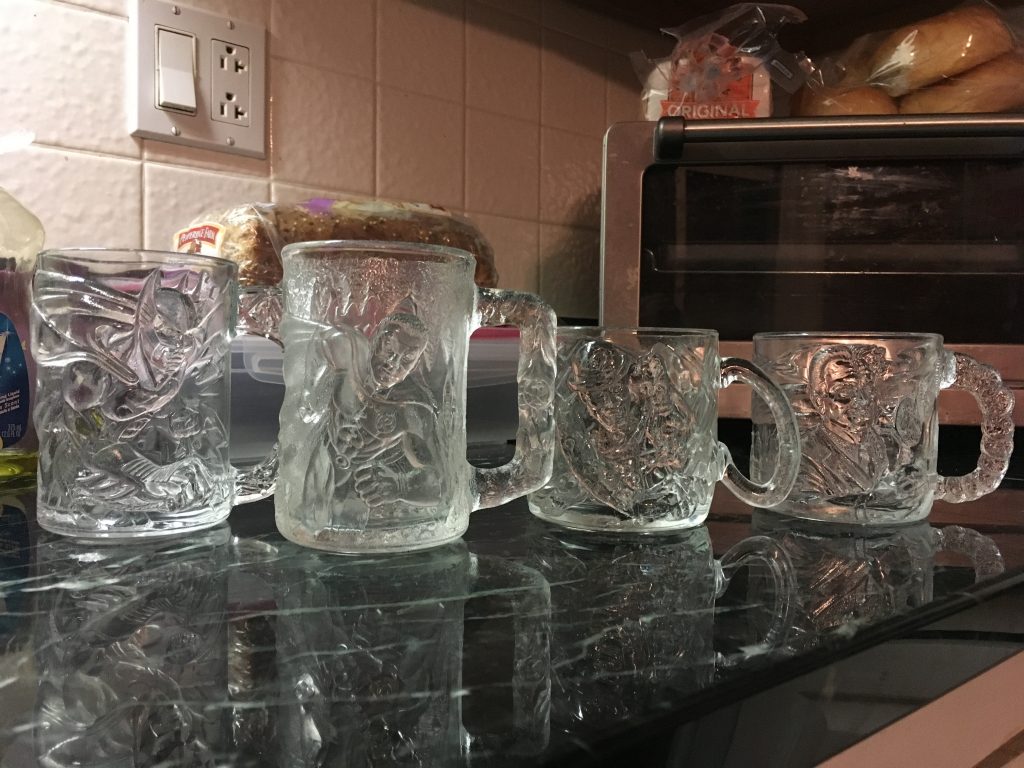 Now these are fancy mugs. They don't sell glassware like this anymore, even at high-end places like Tiffany's, never mind fast food joints. Not only do you get some awesome movie collectibles, you also get some fine glassware to add to your household.
McDonald's also had a superhero sandwich and ran an ad with actual dialogue from the movie.
It was an awesome giveaway and brings back fond memories of my childhood.
So, foodies and movie fans, what are your favorite fast food tie-ins? Think I missed any? Let me know in the comment section below!