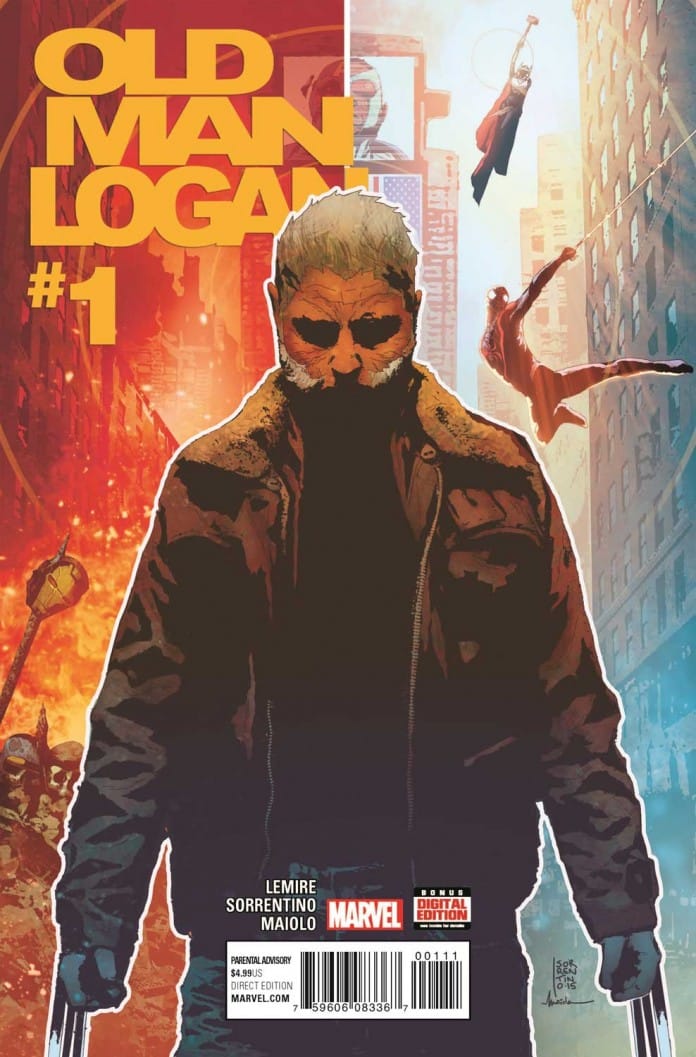 It's Old Man Logan! He's not crotchety, cantankerous, crippled, or any kind of contrarian octogenarian! Nope. He's Old Man Logan, and he's quite adjusted regardless of the things he's seen, the people he's killed, and the innocents he's buried.
When we were first introduced to Old Man Logan, he resided in a future where the super-villains won. Unfortunately, to Logan's dismay, he was an unwitting tool that helped facilitate said super-villain victory. Yeah, that kind of revelation can ruin a man. Maybe my introduction was a bit….naive.
Anyway, after the multiversal shuffling of Secret Wars, Old Man Logan is BACK! He's here! He's alive! And he knows; he knows what might happen if it certain events repeat themselves. Old Man Logan is BACK, and he'll do whatever it takes to make sure his past is NEVER REPEATED! Ok, that's enough out of me; let's allow the OFFICIAL Marvel press release to take us the rest of the way. OH! And check out all the variant covers and a few pages straight out of Old Man Logan #1!
New York, NY—December 21st, 2015 — This January, sharpen  your claws and prepare for the coming of a new kind of Wolverine. Straight out of the pages of Secret Wars comes an older, wiser and much more deadly Logan. And his adventure in the restored Marvel Universe begins as critically acclaimed creators Jeff Lemire and Andrea Sorrentino bring you OLD MAN LOGAN #1 – a brand new ongoing series! Decades from now, a day will come when the villains of the Marvel Universe will band together and rid the world of its heroes. Only Logan now remains, having committed an untold number of atrocities of his own.  But when he winds up in the Marvel Universe of today, he'll finally get his chance to make his future right. By ANY MEANS NECESSARY. Can one man change history? Is the world ready for the return of Logan? Find out as he cuts a bloody swath through the Marvel Universe in OLD MAN LOGAN #1!
OLD MAN LOGAN #1
Written by JEFF LEMIRE
Art & Cover by ANDREA SORRENTINO
Action Figure Variant by JOHN TYLER CHRISTOPHER
Hip-Hop Variant by TIM BRADSTREET
Deadpool Variant by MIKE MCKONE
Variant Cover by MIKE DEODATO