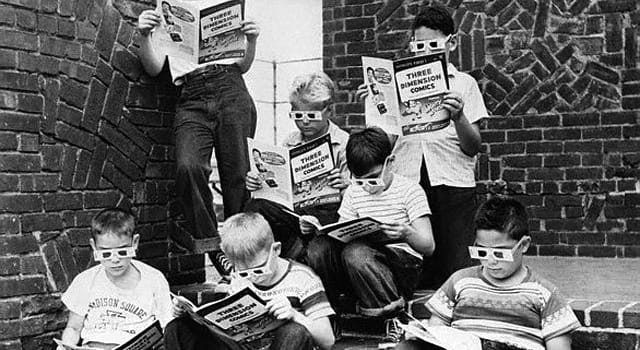 It's a crowded marketplace, with tons of great new comic books hitting every week, so allow us to be your guide to this often overwhelming comic scene. Every week, we will try to give you some clue as to how best spend your hard earned shekles as we hit the highlights of the previous week's releases.
The next few weeks are going to be Marvel heavy as the House of Ideas is assaulting the market with new #1s at the moment and we are going to help you sort through it.
So, let's get started, shall we? First up, the revival of a DC epic that introduced an older Silk #1Silk Batman tempted out of retirement by the sad state of affairs afflicting Gotham City.
Dark Knight III: The Master Race #1 (DC Comics):
Story by Frank Miller & Brian Azzarello; pencils by Andy Kubert; inks by Klaus Janson; colors by Brad Anderson.
Dark Knight Universe Presents: The Atom Mini Comic Written by Frank Miller and Brian Azzarello; pencils by Frank Miller; inks by Klaus Janson; colors by Alex Sinclair.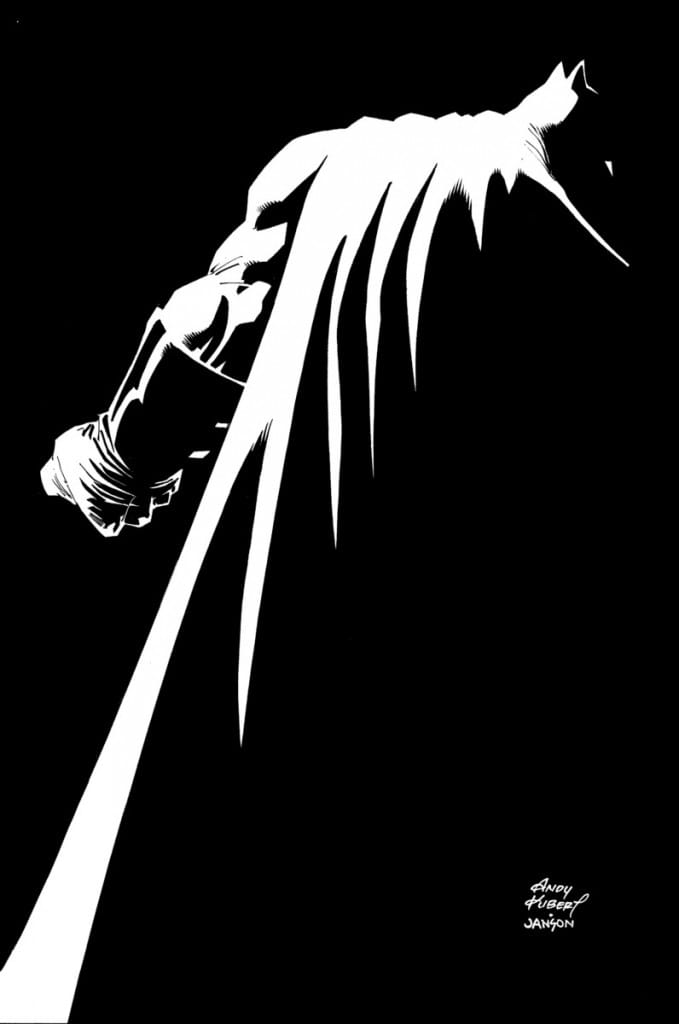 With Dark Knight III: The Master Race DC is going for it all. DC is reviving one of its most storied properties, but a property with a little bloom taken off the rose. The second installment of the Dark Knight saga did not set the world on fire when it hit shops almost fifteen years ago. Sales were good though and DC, which has been experiencing something of a sales malaise of late, is banking on the Dark Knight and Frank Miller to deliver a mega hit. Expectations are high and this book almost had to be great. While the first issue of DK III itself never quite reached the stratosphere DC probably desired it to, it was still a very good comic that delivered on a number of levels.
Firstly, DK III comes in a beautiful package. Once fans pick their choice of one of a ridiculous number of covers (they are all very pleasing, but man, there's a lot of them), they will be treated to a book with beautiful Andy Kubert art done in a style that syncs up with the previous installments of the Dark Knight saga, and they will be greeted by a well paced story that focuses on the entirety of the DC Universe rather than just the world of Batman. In fact, the Wonder Woman and Superman stuff is really good with Brian Azzarello proving that he is still one of the top Wonder Woman scribes on the planet. There are many intriguing places for this story to go and I look forward to watching it unfold.
It's strange though, the second Dark Knight seemed to mock super hero traditions and tropes, it exists as a parody to a genre rather than a continuation of it. The first Dark Knight broke so much ground and took comics into tomorrow while the second Dark Knight seemed mean spirited and bored by the conventional trappings of 'superherodom'. The third Dark Knight almost seems reverent of yesterday with bits of Silver Age coolness like the bottle city of Kandor and the Atom playing major roles in a story that started out very grounded when Frank Miller first put pen to paper in 1986. Maybe Azzarello is the grounding force or maybe Miller learned to love the legends of the DC Universe in the years between Dark Knight II and Dark Knight III. Whatever the case, fans looking for another Dark Knight to bite the hand that feeds needn't worry. There's not much to sink one's teeth into in the first issue, the threat isn't clear nor does Bruce Wayne actually appear, but it is a good start, if not the great start DC was banking on.
Big Picture: Will the Dark Knight III comic book series stand alongside the original Dark Knight, Watchmen, Sandman, Batman: Year One, and Kingdom Come as part of the classic, must-read epic DC canon? Probably not, but it is a competent comic in a unique package. The Atom story was a particular joy to read. It's quite amazing that DC's main line of books is doing everything it can to ignore the past while the once progressive Dark Knight brand is paying homage to the past in such a joyful way. I'm telling you, it was worth the $5.99 just to see Miller draw the Atom.
3 stars
SHIELD #12 (Marvel Comics):
Written by Mark Waid; penciled by Joe Bennett; inked by Alejandro Sicat with Ed Tadeo; colored by Rachelle Rosenberg.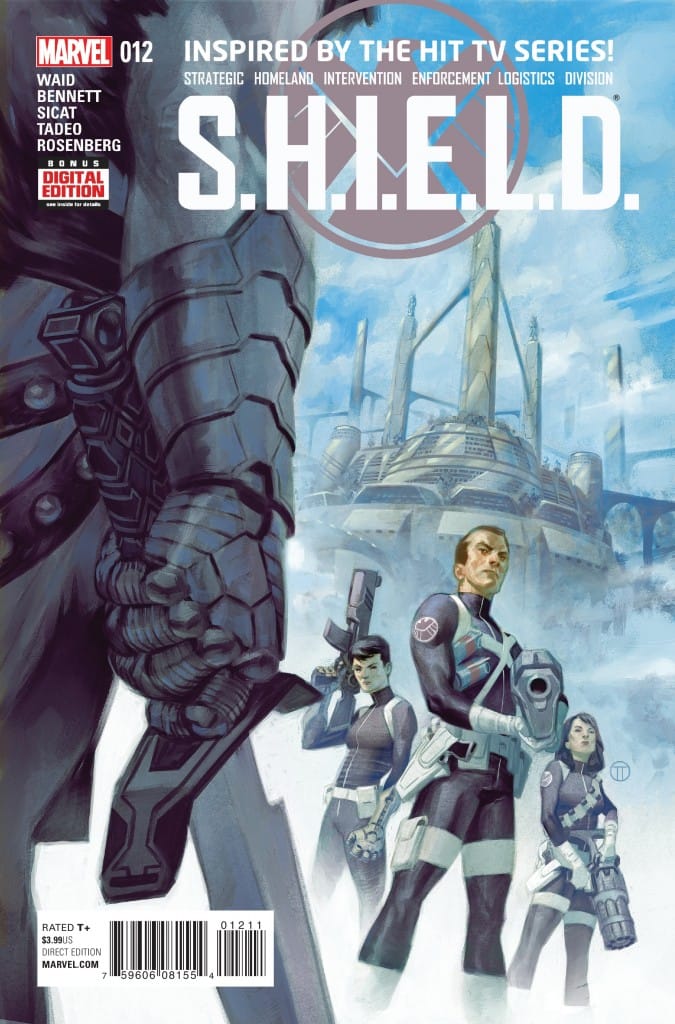 Agent Coulson and his team must journey to Asgard to prevent that assignation of Odin, lest Asgard destroy the Earth. Yeah, that's something you won't see on TV. This was a fun, packed issue with the TV agents involved in a situation they could only face in the budget-less world of comics. It has the usual Mark Waid high stakes and whimsy with colors by Rachelle Rosenberg that truly pop off the page; that woman can truly bring Asgard to life with her hues. It's a very cool package with a rare (these days) fully crafted, 'done in one' story.
Big Picture: This is Mark Waid's last issue of SHIELD and it has been a fun ride. I don't think Waid was able to fully integrate all the TV agents in the comic universe successfully, but when he succeeded, he succeeded in spades. Coulson and Fitz in particular arrived on the page fully crafted and ready to co-exist in Marvel's comic book universe. The book will be rebooted next month as Agents of SHIELD, but this was a strong exit for Waid.
3 ½ stars
Venom: Spaceknight #1 (Marvel Comics)
Written by Robbie Thompson; art by Ariel Olivetti.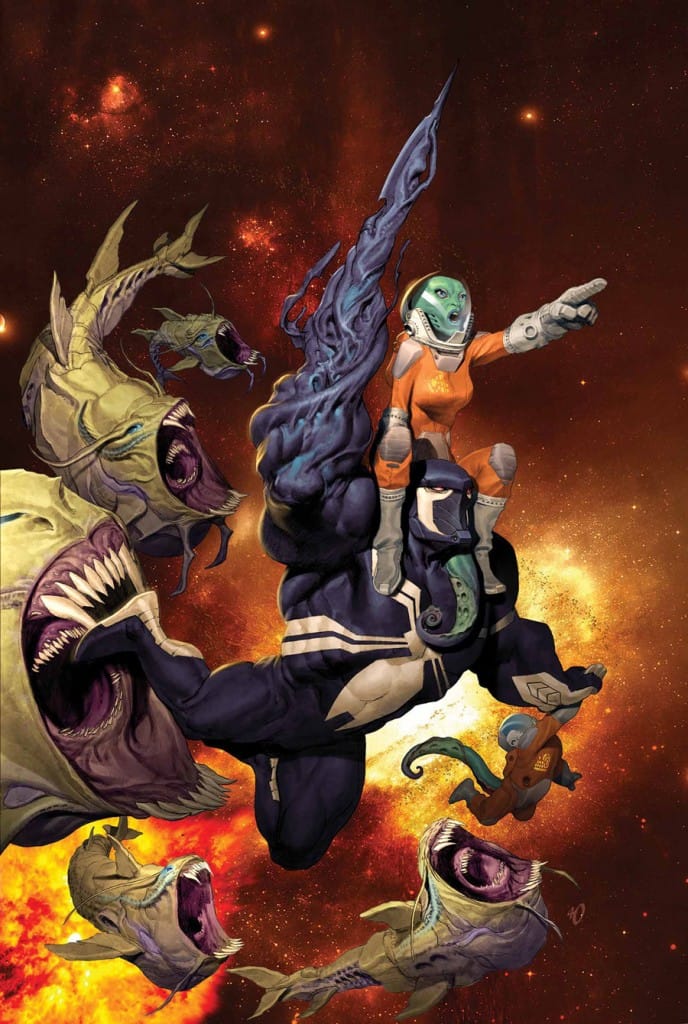 Marvel tries to build on its Guardians of the Galaxy success story with Venom: Space Knight, a sort of Flash Thompson meets Flash Gordon sort of thing. Well, to successfully meld the two Flashes Marvel will need to provide Flash Thompson with a supporting character because, man, did his constant exposition become annoying. The first issue is a pretty endless, albeit fun, space chase that sees Venom rescue some refugees from some space pirates. Along the way, he meets a suicidal robot and wackiness ensues. This issue would have been well served by some sort of flashback to get readers up to speed on the complex saga of this modern day Venom. The art is gorgeous but the book never allows itself to breathe and becomes one moment after another with very little cohesion and basically no attempt to connect the readers with the character or the character's mission.
Big Picture: I like the idea of Venom as Cosmic Protector but there needs to be more happening than just space stuff or this one will become a quickly forgotten chapter in the already overstuffed Venom saga.
2 stars
Silver Surfer #15 (Marvel Comics)
Written by Dan Slott & Michael Allred; colored by Laura Allred.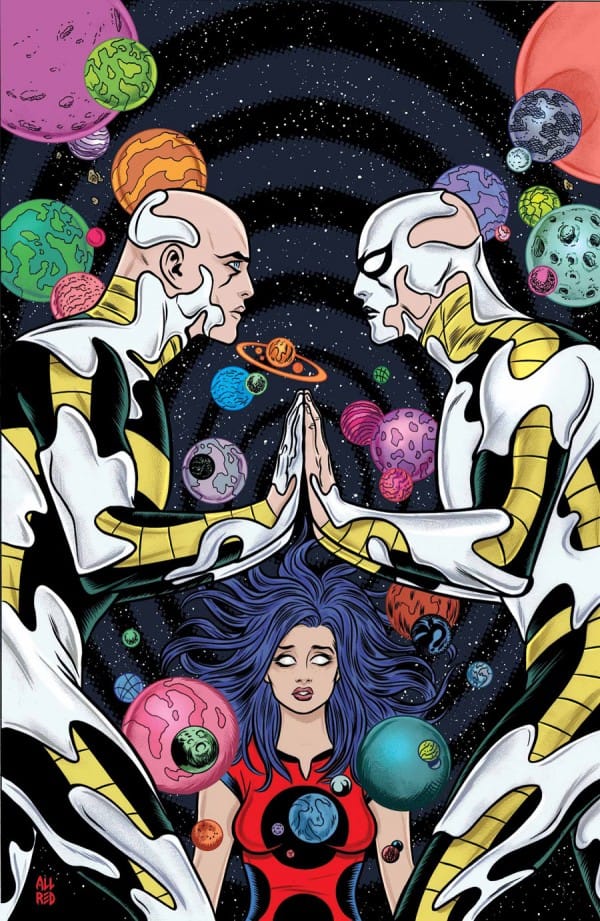 And now we have a Marvel Space epic done to perfection. Everything great about Doctor Who is right there in the pages of Slott and Allred's life affirming epic. This is cosmic Marvel done with humanity, energy, wonder, and fun. This volume wraps up the first volume of Slott and Allred's run and flings the characters and the readers into the next. It's a new way to craft cosmic Marvel but it utilizes such classic Marvel space characters as the Shaper of Worlds, Glorian, and Eternity. This is a comic that truly deserves the label of classic.
Big Picture: Marvel really needs to get the Fantastic Four rights back from Fox, not just to give the FF a loving home, but to make sure these classic Allred and Slott stories can be executed in other media. They are that perfect.
4 ½ stars
Moon Girl and Devil Dinosaur #1(Marvel Comics)
Written by Brandon Montclare and Amy Reeder; art by Natacha Bustos; colors by Tamra Bonvillain.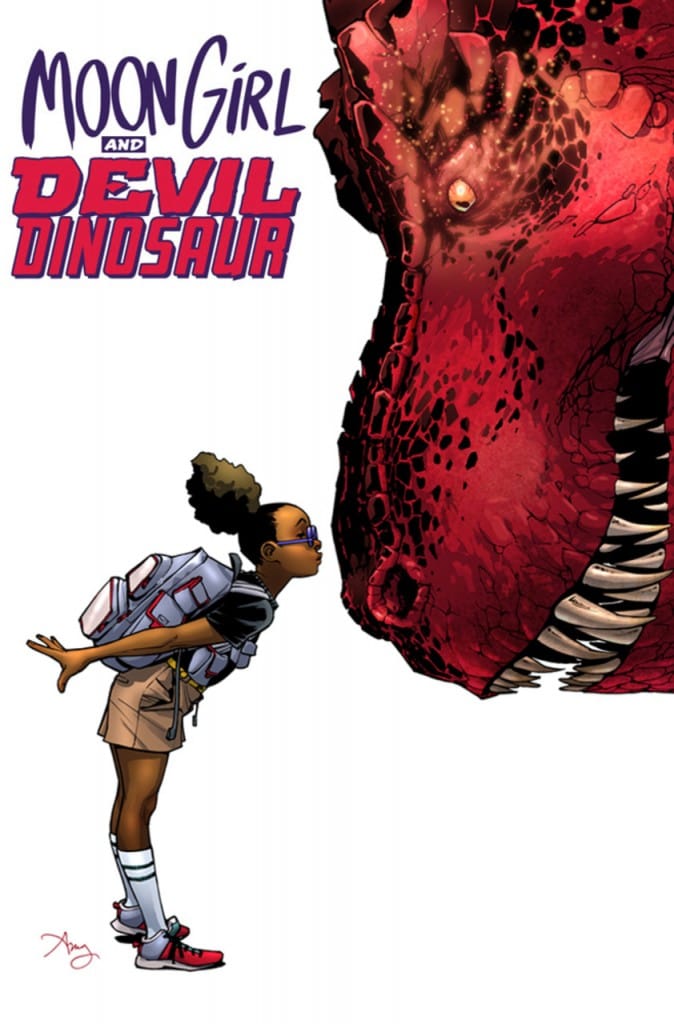 I'm not familiar with most of the creative team of  Moon Girl and Devil Dinosaur #1 but I just want to say, ladies and gentlemen, welcome to the Marvel Universe! More please!
Recently, Marvel has found great success with some truly wonderful young female characters. Heroes such as Ms. Marvel, Spider-Gwen, Silk, and Squirrel Girl have taken the market by storm and we're hopeful the marketplace can handle one more because Moon Girl and her dino pal are AWESOME!  This is exactly the type of book the industry needs to appeal to that young female reader, it never panders, it is deep, fun, quirky, and energetic, and there is enough connecting it to the original Bronze Age Jack Kirby Devil Dinosaur series to appeal to that hardened, old school reader. Natacha Bustos crafts a wondrous world for her characters, juxtaposing the urban life of Moon Girl with the primordial landscape of Devil. Moon Girl is in no way a typical female comic character; she has realistic proportions and a real world quality and is charming as can be. This book is a push for diversity done right and we're hoping the industry supports it because it is a loving tribute to the past with an eye towards the future.
Big Picture: This could be big. This could be an animated Ben 10 level hit for Disney XD. This could be a feature film; this could be many things, because Moon Girl and Devil Dinosaur is a delightful triumph.
4 stars
Silk #1 (Marvel Comics)
Written by Robbie Thompson; art by Stacey Lee; color by Ian Herring.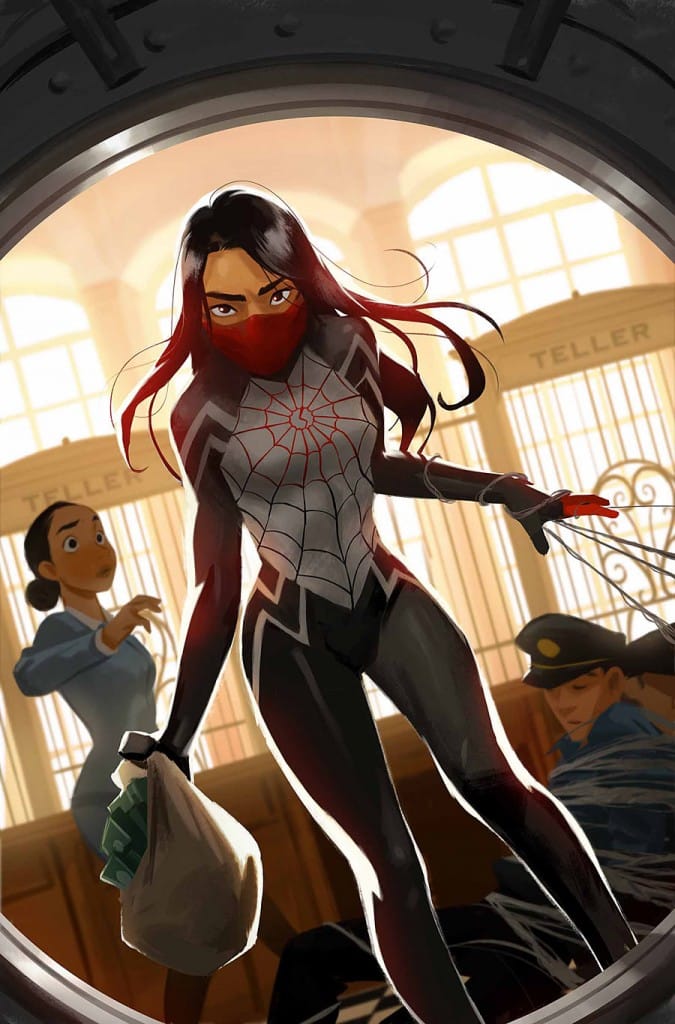 Silk #1 picks up where the old series left off, with Cindy Moon a little more experienced but somehow- a bad guy. The best part of this series is that Thompson so nails the voice of the character done with the same degree of skill that Lee visually realizes Moon's world. There is a great deal of DNA from Spider-Man, with J. Jonah Jameson and Black Cat front and center, but Moon's story has its own purpose. The character clearly has a potent case of PTSD and depression from her ten years locked in a bunker and it's fascinating to see her navigate a world she still fears as a woman and as a superhero. This hits some notes other books don't hit and it's fun to watch.
Big Picture: Marvel can get a great deal of Silk if it lets the character breath and helps her find a market. It might be time to plop Silk into a team book somewhere.
3 ½ stars
Star Wars: Darth Vader #13 (Marvel Comics)
Written by Kieron Gillen; art by Salvador Larroca ; colors b Edgar Delgado.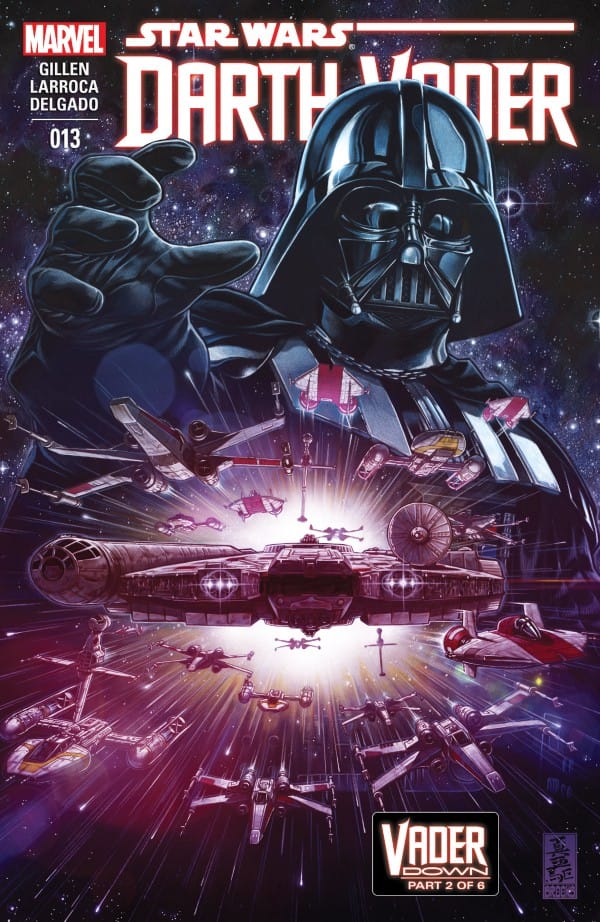 If it wasn't for that Force Awakens thing hitting in a few weeks, there would be no doubt that "Vader Down" would be the greatest Star Wars story of 2015. Yeah, it's that good with Vader going against basically the entire Rebel Alliance by himself. This is as bad-ass a Star Wars story as one can imagine and is destined to set the standard for sequential Star Wars intensity for years to come. Gillen manages to fill his story out with not just the classic Star Wars characters, but with some new players that make this rich galaxy ever richer.
Big Picture: Salvador Larroca might go down in history as the greatest Star Wars comic book artist of all time. He is the visual equivalent of a John Williams score. It's a long wait until December 18th, but with comics like this, at least it's an exciting one.
4 ½ stars
Saga #31 (Image Comics)
Written by Brian K. Vaughan; art by Fiona Staples.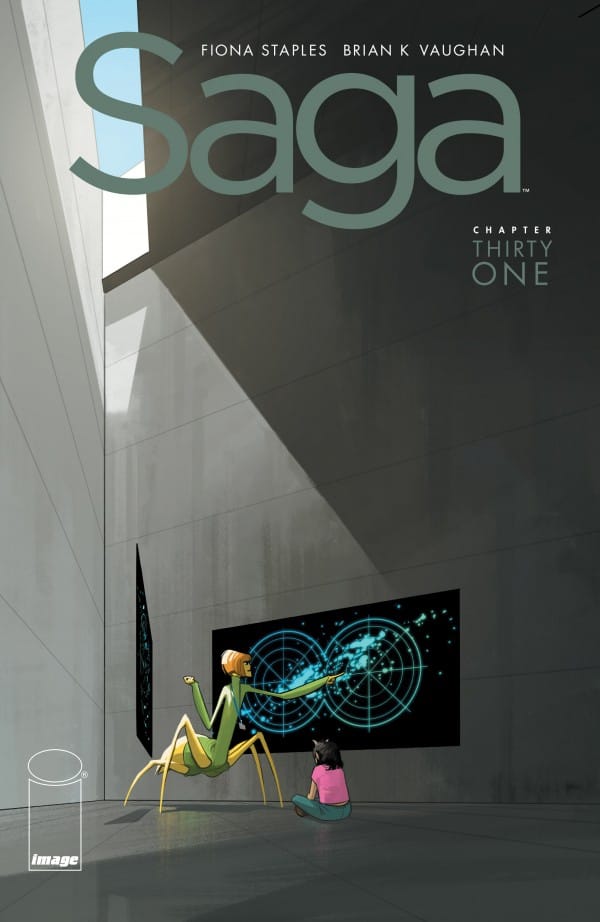 Saga is back with a new arc that gives readers a nice time jump. Hazel is now four years old and let me tell you, you haven't seen adorable until you have witnessed Vaughan write and Staples draw a four year old. Of course, this being Saga, through the cuteness, there are tears, terror, and genitals. If you aren't on board, you are missing the greatest comic book on the market, and when it all is said and done, perhaps one of the greatest comics in history.
Big Picture: Seriously, in the future, they are going to name awards after this thing.
5 stars
Grayson #14 (DC Comics)
Story by Tim Seeley; plot by Tim Seeley and Tom King; art by Stephen Mooney; colors by Jeromy Cox.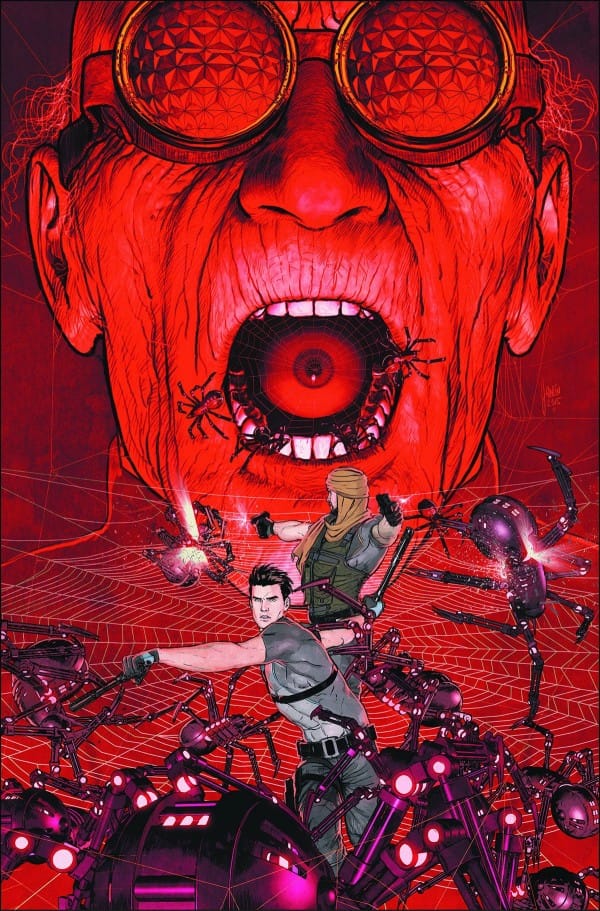 Let's bookend things with another DC comic book. Grayson has everything a DC fan could want. It is a new take on a classic character but is filled with bits and bobs of DC and Wildstorm history (Alan Moore's Ladytron is front and center this issue) and is able to distill it into a James Bond, Steranko-like experience that is a perfect example of modern comic book storytelling. There is no decompression here as every issue is a meaty, satisfying read loaded with conceptual insanity. This one ends with a killer cliffhanger, and I'm not familiar with artist Stephen Mooney, but judging from this issue, he will be one to watch.
Big Picture: Dick Grayson as a secret agent shouldn't have worked, but it did, and this book has set the quality standard at the modern day DC.
3 1/2 stars
Did you find our weekly comic book recap guide helpful? Are there any books you're curious about but haven't had a chance to read? Should we read it for you? Let us know below!