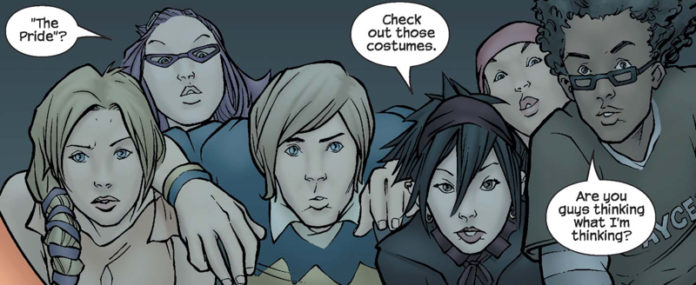 Sssshhh. This is on the down-low so I'm going to make it quick: back in August, we reported that Hulu and Marvel Studios were partnering up to produce a live-action Runaways series based on the comic featuring the appropriately shocked children of supervillains.
Well, production recently wrapped on the pilot episode, so we thought HULU might debut the trailer for Marvel and Hulu's Runaways during their Upfronts presentation. I mean, the Upfronts presentation is a vehicle to promote HULU's forthcoming series, so why the hell wouldn't a trailer for Runaways grace the presentation's schedule? Well, it did, and a crowd member recorded it. Take a look (but don't say anything).
https://www.youtube.com/watch?v=6i0roQvnTI0
It looks like the live-action series will follow the first story arc from the acclaimed comic by Brian K. Vaughn (writer) and Adrian Alphona (artist). The kids aren't alright, to borrow from The Who, and they're not alright because their parents are wizard, aliens, telepaths, monsters, and all manner of scary things that should NOT be parenting.
Anyway, the series looks great, and although it stars kids, it's definitely not for kids considering the "cussin'" and the very mature subject matter.
Oh, and check out this "live" tweet from the Upstarts presentation granting us our "official" first look at the characters.
Our first look at the main characters in Hulu's THE RUNAWAYS series! pic.twitter.com/mHH1ORvD0b

— MCU – The Direct (@MCU_Direct) May 3, 2017
When will it debut? Unfortunately, the date's ambiguity is still holding at "sometime in 2018." Trust me, as soon as we get it, we'll post the series debut date right here, on The Source.
And if you want to know more about the series, check out the following, incredibly informative article. It's appropriately titled….