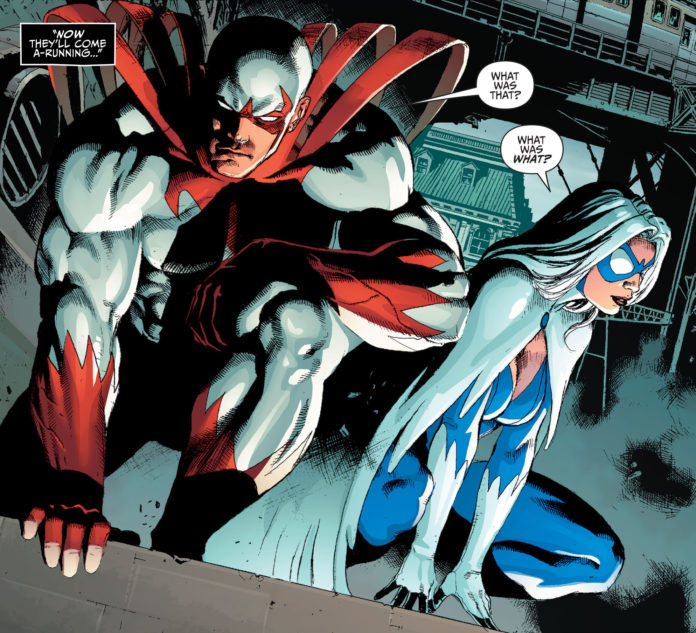 Hank Hall and Dawn Granger are collectively known as Hawk and Dove, and Alan Ritchson and Minka Kelly have just been cast as the lesser-known dynamic duo for the upcoming Titans TV series. Ritchson is best known for voicing the tough brute that's Raphael in the Teenage Mutant Ninja Turtles movies, and playing Aquaman on The CW's Smallville. Kelly is known in Friday Night Lights, Jane the Virgin, and Parenthood. But just who exactly are these two characters that will star alongside Dick Grayson, Starfire, and Raven in the much-awaited series? Read on to find out!
Opposites attract
The crime-fighting vigilante duo Hawk and Dove is actually a romantic couple, but the first incarnation of the pair was actually quite different. First introduced in 1968, Hank Hall and his brother Don were polar opposites, with Hank being aggressive and offensive and Don being strategic and defensive. Created by Steve Ditko and Steve Skeates, Hank Hall and Don Hall received their powers when mysterious voices offered them a chance to save their father, Judge Irwin Hall, who was involved in an assassination attempt.
The Lord of Chaos, T'Charr, and the Lord of Order, Terataya, told them that they simply had to call upon the powers of the Hawk (super-strength, durability, stamina, speed) and the Dove (magical and tactical abilities) to become the costumed superheroes of the same name.
Crisis on Infinite Earths
In the 1985 major DC event titled Crisis on Infinite Earths, Don Hall died a heroic death when he tried to save a boy from a falling building. The kid was being attacked by shadow demons from the Anti-Monitor, and Don was attacked from behind. In memory of his death, there is a statue of Don as a memorial at the Titans Tower in San Francisco.
When 1988 rolled around, Karl and Barbara Kesel reintroduced a new Hawk and Dove mini-series, this time with a woman playing Dove to Hank's Hawk. She supposedly got her powers the instant that Don Hall died.
A new "Dawn"
Dawn Granger, as the new Dove, has above-average dexterity and strength, as well as enhanced mental abilities and speed. She can also heal pretty quickly, and after a run-in with the supernatural beings M'Shulla and Kestrel in the mystical land of Druspa Tau, she gained the powers of flight and became bulletproof, while Hank received super-strength and a sort of invulnerability.
Hawk as Extant
A supervillain known as Monarch appeared in Armageddon 2001, and after an editorial slip-up, the villain was later revealed to be the future Hank Hall. In a battle with Hawk and Dove, Monarch supposedly killed Dawn and caused Hank to go on a psychotic break, killing Monarch in the process and becoming the villain Extant in Zero Hour. What followed was a complicated battle with the Justice Society of America, which resulted in his death. Despite his villainous and murderous rampage, he eventually received a memorial statue in the Titans Tower as well.
In Blackest Night…
In one of the most awesome DC events ever, Don Hall, the original Dove, was supposed to be reanimated as an evil corpse during the Blackest Night run. However, when the black power rings tried to recruit him into the undead army, the rings declared, "Don Hall of Earth is at peace." The same wasn't true for Hank Hall's corpse, who accepted the black ring and said, "Same old, same old, huh, bro? Hawk's got to do all the dirty work himself."
It was also revealed in this event that Dawn had the power of white energy that coulc "defeat" the Black Lanterns. This is called the "white light of creation", and it was the same power that eventually revived Hank after an epic battle with the Black Lanterns. Nobody ever stays dead in comics, right?
Excited for Hawk and Dove in the Titans show over at DC's streaming service? Let us know your thoughts below!