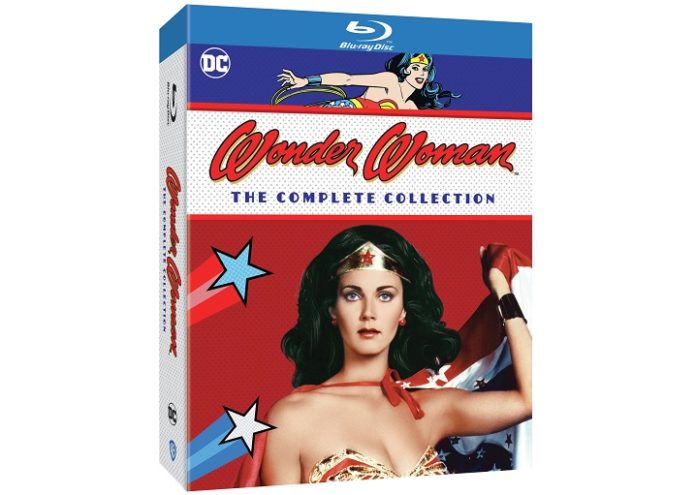 Wonder Woman, the beloved 1970s live-action television series starring Lynda Carter, has been remastered and is coming to Blu-ray™! Wonder Woman: The Complete Collection arrives from Warner Bros. Home Entertainment on July 28, 2020.
Save the world? That's a man's job. Then along comes star-spangled Wonder Woman with her bullet-deflecting bracelets and golden lariat to set everyone straight. With Lynda Carter staring as the title character, Season One features adventures in Wonder Woman's original World War II era, while Seasons Two and Three whoosh forward to the disco-loving '70s. Times change. The need to smash evil, calamity and injustice does not.
The Wonder Woman: The Complete Collection Blu-ray box set (USA $64.99 SRP, Canada $69.99 CAN) comes complete with all 59 episodes, plus the treasured pilot movie, across 10 discs. Bonus features include:
· Audio commentary of the pilot movie by Lynda Carter & executive producer Douglas S. Cramer
· Audio commentary by Lynda Carter on episode, "My Teenage Idol is Missing"
· Featurette – Beauty, Brawn and Bulletproof Bracelets: A Wonder Woman Retrospective
· Featurette – Revolutionizing a Classic: From Comic Book to Television
· Featurette – Wonder Woman: The Ultimate Feminist Icon
The TV movie pilot, The New Original Wonder Woman, premiered on November 7, 1975 on ABC. The first season of the series, Wonder Woman, debuted February 16, 1977 on ABC. The second and third seasons of the series aired on CBS, with the final original episode premiering on September 11, 1979.
The Wonder Woman series starred Lynda Carter in the title role as both Wonder Woman and her alter ego, Diana Prince, Lyle Waggoner as Steve Trevor, and Debra Winger as Wonder Girl/Drusilla. First season regulars included Beatrice Colen as Etta Candy, and Richard Eastham as General Philip Blankenship. Noteworthy guest stars included such luminaries of the era as singer/actor Rick Springfield, Red Buttons, Roy Rogers, Roddy McDowall, Frank Gorshin, Celeste Holm, Martin Mull, Dick Gautier, Ron Ely, Gary Burghoff, Leif Garrett, Ed Begley Jr., Dick Van Patten, Eve Plumb, Philip Michael Thomas, Cloris Leachman, Gavin MacLeod, Carolyn Jones, Joan Van Ark, Robert Reed, Anne Francis, John Saxon and many more.