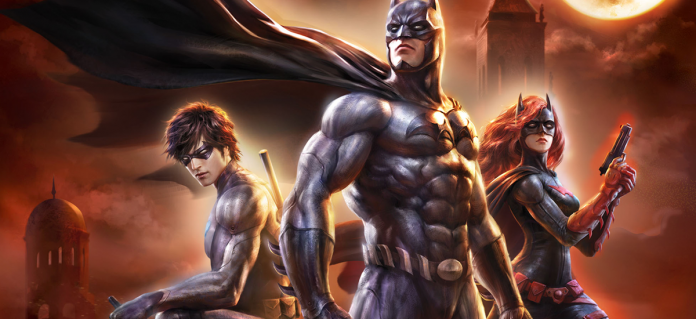 YES! IT WAS A CONTEST, BUT NOW…IT'S OVER!
Some of you may have already seen Batman: Bad Blood since it was available for HD streaming as of….2 days ago. BUT, the Blu-ray/DVD will be available for tangible, physical, collectible consumption on February 2nd! YES! So, because we're nifty and awfully nice, The Source is giving away 1 FREE COPY of Batman: Bad Blood in the standard Blu-ray + DVD + Digital HD UltraViolet Combo Pack configuration!
Starting today and up until the very end of February 1st, you can enter your name once a day into the 'unbiased algorithm spinner' (located below and usually referred to as an 'entry form') for your chance to win the aforementioned Batman: Bad Blood Blu-ray combo pack!
HAVE AT YOU!
Wondering who or what killed the HELL out of Batman in Batman: Bad Blood?? Well, if you read the pertinent DC Comics, specifically Final Crisis and The Return of Bruce Wayne, you're already aware of one potential scenario responsible for the sudden disappearance of Batman: Batman is currently fighting his way to the present after receiving a blast of time-displacing Omega Beams at the hands of Darkseid. Something tells me that's NOT the instigating element behind Batman's unannounced departure, but that's freaking canonical comic book history which SHOULD ALWAYS BE ADHERED TO!!!! Sorry.
Anyway, enter your name and you might win yourself a FREE copy of Batman: Bad Blood on Blu-ray!
When will you get it (if you win)? Well, we'll get it 2-4 days after February 2nd, you'll get it in another 4-7 days…unless you live EXTREMELY far away, or fifty-thousand years in the past. Yup.