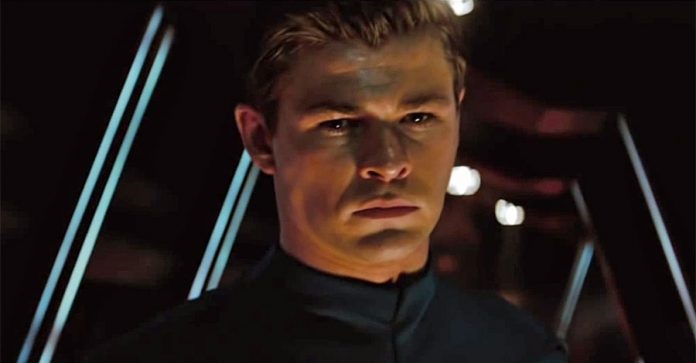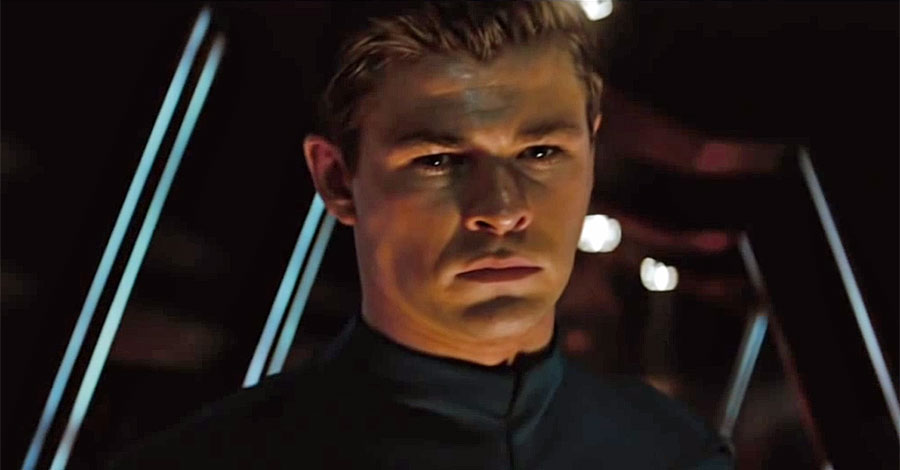 Later this week, the latest adventure for the U.S.S. Enterprise will hit the big screens as Star Trek Beyond finally hits theaters. The movie hopes to reach the success both of both its predecessors, and apparently, Paramount feels they have another hit on their hands. They're so confident, they've already green-lit a fourth installment of the rebooted Trek-verse. And for the next outing, filmmakers are bringing back one familiar face. Yes, it seems Chris Hemsworth is returning for Star Trek 4!
Over the weekend, Beyond producer J.J. Abrams let it slip that Chris Hemsworth will be reprising his cameo role from Star Trek as George Kirk. In a press release today, Paramount
announced that a fourth movie will focus on the lost relationship between Captain James T. Kirk and the father he never got to know.
"In the next installment of the epic space adventure, Chris Pine's Captain Kirk will cross paths with a man he never had a chance to meet, but whose legacy has haunted him since the day he was born: his father."
It also revealed that the remaining cast is expected to return, with the obvious exception of Anton Yelchin who sadly passed away last month after being involved in a car accident. J.D. Payne and Patrick McKay will write the fourth Star Trek movie. J.J. Abrams and Lindsey Weber will produce the movie through Bad Robot. No director has been announced, but clearly Beyond director Justin Lin has to be a front-runner for the position.
Obviously, the biggest news from the announcement is that Chris Hemsworth is returning to the Star Trek Universe. 2009's Star Trek was the first real introduction to Hemsworth for American audiences. Before he was Thor, a Ghostbuster, or even The Huntsman, Hemsworth was the acting general of a starship for only a few minutes before he was destroyed by Eric Bana's time-traveling Romulan, Nero.
Bringing George Kirk back into the fold isn't as hard as it seems. Abram's Star Trek Universe has no issues incorporating time travel into its stories. They even have multiple versions of Spock, due to corruption of the space-time continuum.
Here's the angle they could take-
When George Kirk crashes his ship The Kelvin into Nero's, he plunges into the black hole they were fighting around, only to reemerge years later (perhaps driven mad by the whole ordeal). Star Trek writers are lucky the story can be written with ease, and are very fortunate that the actor who played George Kirk ended up becoming a massive movie star.
The big news here is that Paramount is moving ahead with a fourth movie before Star Trek Beyond gets released. While the first two movies did well at the box office, neither have comes close to the numbers being put up by other franchises. With Beyond only tracking to make $48-$60 million this opening weekend (which would make it the worst opening weekend for any movie in the rebooted universe), Beyond has a chance to be the lowest grossing film in the new franchise.
Even if Star Trek Beyond doesn't reach the numbers Paramount would hope for, the future looks bright for the U.S.S. Enterprise. Bringing in someone like Hemsworth means added star power, which could lead to a bigger box office total. Still, perhaps the minds behind Star Trek should do something drastic when they bring him aboard. Something like… Star Trek into Asgard! Come on! Like you wouldn't watch that!