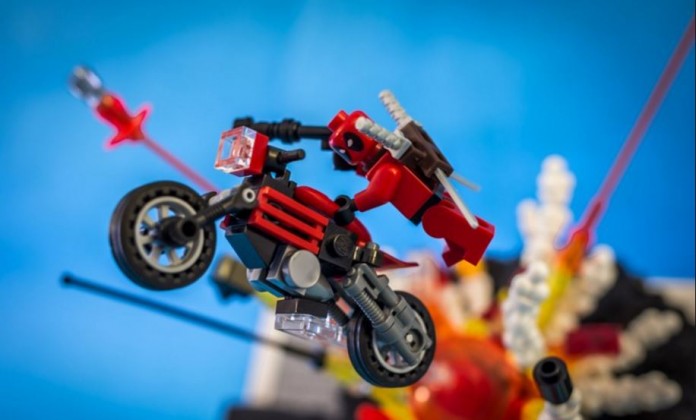 Everyone hates spoilers. It's even worse when they come from the movie's star. Well, now we can all blame Ryan Reynolds for his recent social media exploits.
Wade Wilson himself tweeted out pictures of Deadpool LEGO sets… and wow… do these contain some real 'spoilery' material.
I mean… the set is even called "Movie Spoiler." If you had to guess, this would have to be the final climatic battle in the movie (and it's going to take place in a hot air balloon!!!). Not to mention the side fight between an octopus and a motorcycle-riding shark. WHAT WON'T THIS MOVIE HAVE!!! I was looking forward to the surprise Pegasus appearance as Deadpool did battle with an Astronaut. Thanks, Reynolds.
If that wasn't enough, He also revealed the "Farm and Country" set. Of course, everyone was expecting the hot dog cookout with a moose and owl, but by unveiling it with a LEGO set? Very cruel Fox; very cruel. Also… it comes with 8,675,309 pieces (Jenny would love that).
Well… despite wanting to grab your wallets, these are obviously fakes; they came from the ToyzIIMen tumbler page (can't we get some legit Deadpool sets!!!). But don't fret, LEGO fans; if you're in need of brick-building material… then turn to their Star Wars section.
I mean… who wouldn't want a Han Solo in frozen carbonite minifigure. Throw this set in with the new Force Awakens LEGO video game… and brickheads will have a lot to keep them busy for the next few weeks.