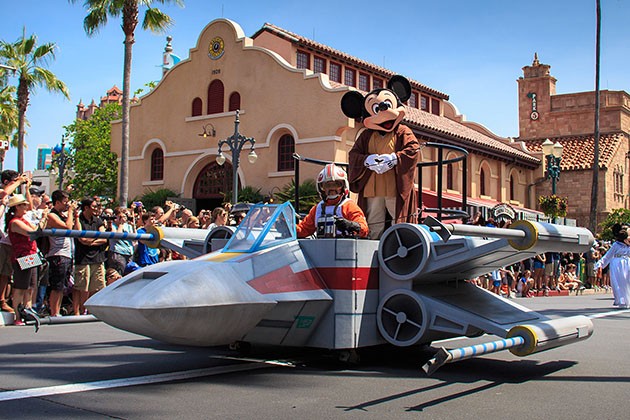 Sometimes it's just good to live in Florida. I mean, everything you could ever ask for is already there, like constant sunshine, warmth, glistening beaches and…amazing theme parks. Regarding those already amazing theme parks, it seems things will actually be made MORE amazing; Walt Disney World recently announced plans to expand its Star Wars presence inside Disney theme parks.
The Disney Empire announced today that starting in April a new stage show is coming to its Hollywood Studio's park. Star Wars: A Galaxy Far, Far Away will take place in front of the parks Grauman's Chinese Theater replica. So, what can both Star Wars and Disney fans alike expect? How about Darth Vader, Kylo Ren and Darth Maul recreating their iconic scenes from the movies? I'm sure there will be some heroes thrown in there as well, but be assured… the Sith are coming to Lake Buena Vista.
Speaking of the Empire, another familiar face… uh… helmet will be making her debut this April. Several times a day, Captain Phasma will lead her First Order battalion out of the Star Wars Launch Bay and across the park. No word if they'll be accepting recruits, but would you honestly be shocked if some Dads leave their families behind and join the Empire?
Stage shows and character photo ops are fine and dandy, but if you've ever been to Walt Disney World before, the day isn't over until you've stayed for the fireworks at the end. Now, Hollywood Studios fireworks are getting a force-friendly makeover.
This summer, the park will introduce Star Wars: A Galactic Spectacular. The show will once again take place outside of the Chinese Theater, and is set to fireworks, light projections, special effects and freakin' lasers!!! Disney says the experience will turn buildings into "the twin suns of Tatooine, a field of battle droids, the trench of the Death Star, Starkiller Base and other Star Wars destinations. The show will be punctuated with a tower of fire and spotlight beams, creating massive lightsabers in the sky." Disney punctuates the announcement by saying the show will be the most elaborate fireworks display in the history of Hollywood Studios.
Walt Disney World is quickly becoming the mecca for Star Wars fans. The park already introduced a Jakku addition to its popular Star Tours ride (which I personally visit… at minimum… ten times per visit). It was also last year when Star Wars Launch Bay opened its doors allowing fans to mingle with Chewbalcca and Boba Fett all while looking at memorabilia from the franchise.
Today's announcement also continues to build excitement for the additions to the upcoming "Star Wars Land". With a full-sized Millennium Falcon soon to be docked in central Florida, you know Disney will continue to add to its Star Wars collection inside the parks. Well, at least until The Force has completely devoured Hollywood Studios (ugh… it will always be MGM Studios to me).
Oh, and no shirt, no service at Star Wars Land, so…dress appropriately. We can help you with that.