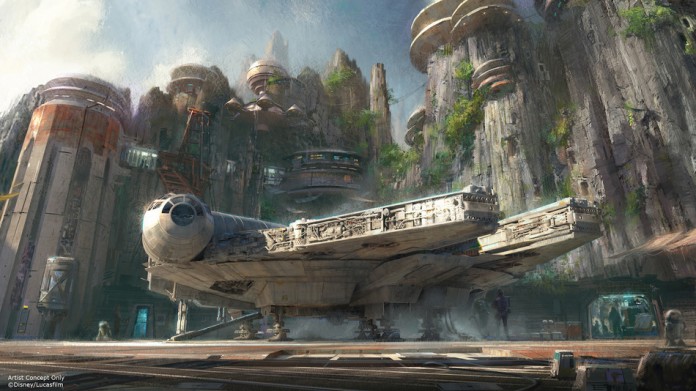 You heard about Star Wars Land, right? The Star Wars-themed, 14-acre parks going up in Disney's Orlando, Florida and Anahiem, California locations? No? Then allow us to educate you: on August 15th, Disney CEO Bob Iger announced that Disneyland and Disneyworld would be adding Star Wars Land to each respective location; this is an additional 14 acres of Star Wars-themed, happy-time goodness including cantinas, roaming, free range Star Wars creatures and – prepare yourself – the ability to fly the Millennium Falcon. WOOO! Check out the beautiful concept art for the forthcoming Star Wars Land theme parks above and below!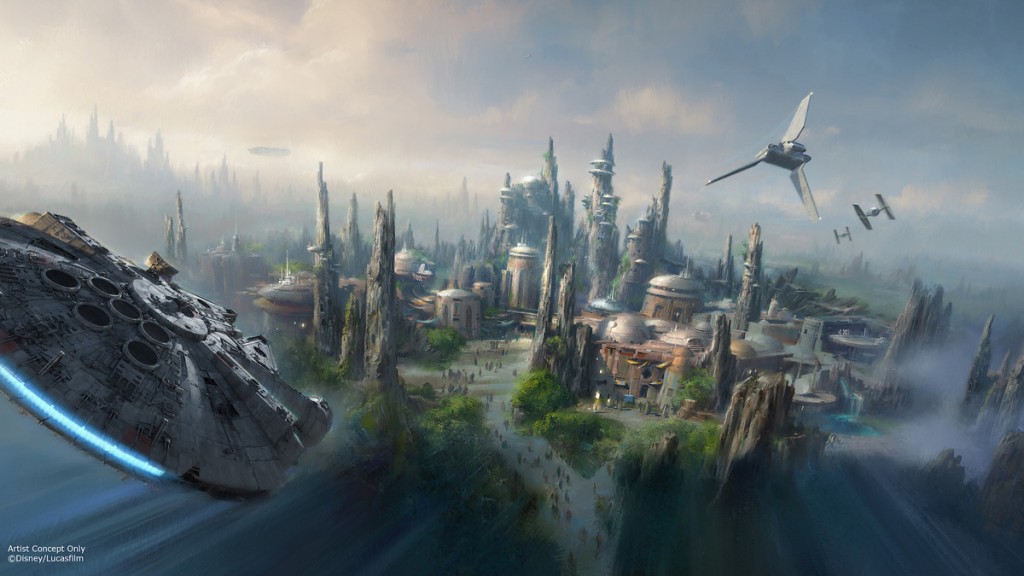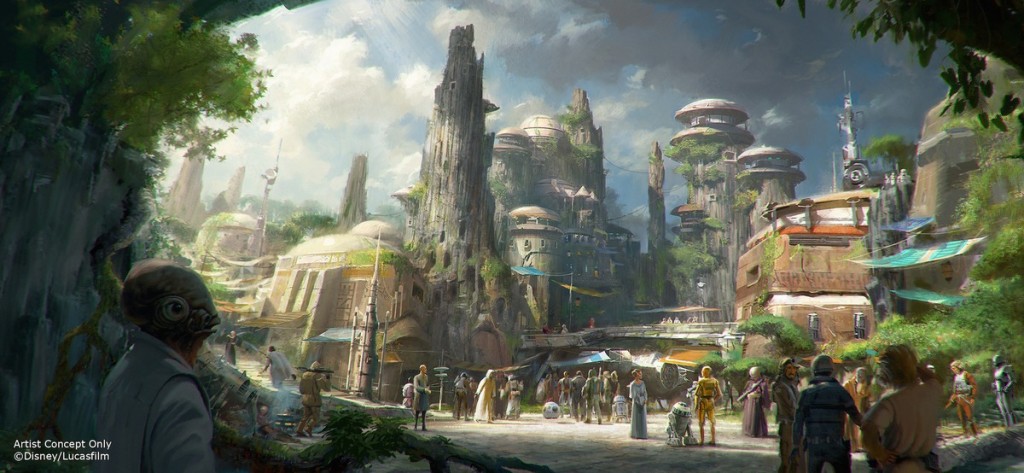 Bob Iger, the aforementioned Disney CEO, talked excitedly about the forthcoming Star Wars Land attractions at the D23 Expo held in August.
"We are creating a jaw-dropping new world that represents our largest single themed land expansion ever," Iger said. "These new lands at Disneyland and Walt Disney World will transport guests to a whole new Star Wars planet, including an epic Star Wars adventure that puts you in the middle of a climactic battle between the First Order and the Resistance."
Yes, Disney and Lucasfilm teamed up once before in 1987, collaborating on the Star Wars Tours attractions, but that was one, paltry, meager ride. Star Wars Land is a fully immersive world stocked with costumed cast-members, themed restaurants and other countless attractions. Basically, if you can avoid security, it's possible to make a life for yourself in Star Wars Land, maybe even raise a family (kidding, but I'm considering it).
Iger continued, commenting on the main attractions and the level of immersion Star Wars fans can expect.
"You can experience new stories with characters from The Force Awakens, and familiar characters from the Star Wars saga. Each park will have two main attractions, one of which is to take the controls of the Millennium Falcon." (Iger did not initially disclose the second main attraction. Hopefully, it's a fully-functional sarlacc pit.)
Since this announcement, Disney has been pretty tight-lipped regarding the progress made in the creation of my future home, Star Wars Land. However, the following update (conveniently located under the heading titled, "update") proves that Iger's August annnounement was not the stuff of fiction, as it appears the parks are being primed for some serious construction.
UPDATE!
This January, Anaheim's Disneyland will close 10 attractions and eateries to make way for the largest act of expansion ever attempted in the park's 60-year history. What's closing? Well, firstly, a list of attractions closing permanently on January 10th: Big Thunder attractions, which includes Big Thunder Ranch in Frontierland, Big Thunder Ranch Barbecue, Big Thunder Ranch petting zoo and Big Thunder Ranch Jamboree.
And secondly, according to our friends at the Los Angeles Times, a list of attractions closing temporarily: Fantasmic, the Mark Twain Riverboat, the Sailing Ship Columbia, the Pirates Lair on Tom Sawyer Island, the Disneyland Railroad and the Davy Crockett Explorer Canoes. WHEW!
No new details have emerged regarding the proposed completion date of Star Wars Land, but rest assured, The Source will get you those details. How? Probably through first-hand accounts as I attempt to build a tiny Jawa teepee without alerting Anaheim police officers deceptively dressed as Gamorrean Guards!